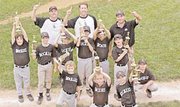 <b>Little League Champs</b>
On Monday, June 15, the Vienna AAA Rockies defeated the AAA Indians 10-4 to win the AAA Vienna Town Tournament. The Rockies ended their season with a 14-2 record.
<b>Summer Soccer</b>
By winning the recent US Youth Soccer Virginia State Championship, one Vienna area soccer team has qualified to compete in the US Youth Soccer Region I (East) Championships.
The U-12 age group VYS Premier Red will be among the more than 282 top US Youth Soccer Boys and Girls teams from the 15 US Youth Soccer State Associations competing for the regional title, July 2-7 at the US Youth Soccer Region I Championships at Barboursville Soccer Complex, Huntington YMCA Kennedy Center and Scott Orthopedics Soccer Complex in Barboursville, W.Va. Daily reports and complete results from the tournament will be available on http://Championships.USYouthSoccer.org/regionI.
<b>Baseball Camp Info</b>
VP Baseball will be offering numerous camps for youth ages 4-17 in and around Vienna this summer. For the 15th year, VP Baseball will be offering baseball, football, girls lacrosse, field hockey and an all sports camps, which will run from June 22 to Aug. 14. For more information or to register, contact director Mark "Pudge" Gjormand at 703-975-4124, the Vienna community center at 703-255-6360 or visit www.mvpbaseballschool.com.
<b>High School Coaching Vacancies</b>
George C. Marshall High School is currently looking for head coaches for their varsity sports program. Coaching positions available, starting with the 2009-10 school year, are the following: head coach, varsity men's lacrosse; head coach, varsity women's soccer; and head coach, gymnastics. Resumes may be sent to: Joe Swarm, Director of Student Activities; George C. Marshall High School; 7731 Leesburg Pike; Falls Church, VA 22043.
<b>More Swimming</b>
Cardinal Hill Swim & Racquet Club of Vienna emerged victorious in its first NVSL swim meet of the year, defeating Sleepy Hollow, 222-180. Double winners included: Kirsten Knauf, Great Westfall, Connor Smith and Matt Russiello. Megan Perry set a new 50-meter breaststroke record with a time of 36.36 seconds.
On Sunday, in a storm-interrupted Dominion Country Club League swim meet, Trump National Country Club (2-0) upset defending league champion, Westwood Country Club (1-1), 281-235. In spite of the loss, Westwood turned in a number of outstanding performances. Four event winners included Audrey Kellan, Laura Kellan, Kayla O'Malley and Matt Callahan. Krissy O'Malley and Will Roeder were three event winners. Also winning an event for Westwood were Bohe Hosking, Molly Anspach, Michael Leone, Grace Fisher and Connor Barrand.