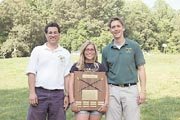 <b>Swim Results</b>
Here's a recap of contributed reports on what happened around the area during week two of the NVSL season.
The <b>Great Falls Rapids</b> are on their way to a winning season with their second victory in NVSL Division 13 beating the Pleasant Valley Piranhas 212-190. In particular, the team's 8 & under boys and girls were exceptional, sweeping the freestyle, backstroke, and relay races. Standouts included Joey Thomas, Evan Guidi, Eric Eichler, Karlye Pallotta, Sammy Thomas, Annie Mahoney, David Hulett, Julia Bullock and Tim Marcille. Great Falls captured 21 first places overall, with double first place wins by James Cutler, Mary Liz Elliott, Annie Kemmerer, Will Kemmerer, Joseph Thomas and Max Wingo.
<b>Chesterbrook</b> defeated Hamlet, 286-116, this past Saturday thanks in large part to recording a whopping 72 personal best times. Double winners were Grant DeWitt, Nowell Boardman, Duncan Green, Alston Offutt, Steven Lee-Kramer, Maddie McArthur and Joey Sullivan.
The <b>Highlands</b> Whomping Turtles prevailed over the South Run Sea Hawks 240.5 to 161.5 in Division 3 action. Double winners were: Claire Collins, Diego Cruzado, Colton Heuple and Brian Murphy.
In a close meet that went down to the last two relays, <b>Langley</b> won the meet with a score of 210-192. Double event winners included: Zach Johnson, Elena Shklyar, Nathan Robinson, Nicole Johnson and Meghan Overend. The girls 13-14 medley relay team of Sarah Horan, Nicole Johnson, Kat Owczarski and Marli Peress broke a 15-year-old record with a time of 1:07.48. The boys mixed-age relay team of Nathan Robinson, Zach Johnson, Jack Reilly and Christopher Overend broke a 2005 record with a time of 2:01.74, and the girls mixed-age relay of Alexandra Cramer, Elena Shklyar, Nicole Johnson and Meghan Overend broke a 42-year-old record with a time of 2:09.43. The previous week, Katie Robinson broke a 15-year-old record in the 11-12 backstroke with a time of 36.48.
To have your team's swim results published in print or online, contact sports editor Mark Giannotto at mgiannotto@connectionnewspapers.com.
<b>Langley Crew Award</b>
Langley Crew awarded Langley senior Alyssa McKay the Hillary J. Fein Spirit Award at their end of year picnic on June 7. The Hillary J. Fein Spirit Award is presented annually in memory of Fein, Class of 1999, to the athlete who best embodies the true spirit and passion for crew. Fein was a former Langley student who demonstrated this same character while rowing for Langley before her death. The men's varsity eight was named after Hillary in 2000. To ensure Hillary's story will live on in Langley Crew, the Board of Directors established the annual award in her name. This year's recipient, McKay, is pictured with head coach Brett Rini, who rowed with Hillary for three years at Langley, and women's varsity coach Matt Fanny. McKay will be attending Georgia Tech majoring in architecture and will be a coxswain for the Georgia Tech's women's crew.
<b>Local Lax Player Headed to Navy</b>
Buckley Smith of Great Falls, a senior lacrosse player at The Kiski School, a boarding school outside of Pittsburgh, received an appointment to attend the U.S. Naval Academy, a top ten Division 1 lacrosse program. Smith was captain of the team and played midfield. He had 48 goals and 19 assists this season.