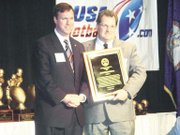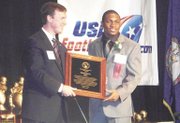 Minutes after attendees finished their chicken over rice with a side of asparagus, former U.S. Rep. (R) Tom Davis took the stage Sunday afternoon, March 1, at the McLean Hilton and told a story about his own football glory days.
"I played end, guard and tackle," Davis said as area coaches, players and supporters gathered at the 19th Annual Fairfax County Football Hall of Fame Awards Banquet. "I sat at the end of the bench, guarded the water bucket and tackled anyone who came near it."
The oft-told joke drew plenty of laughs, but Davis followed with a more poignant story about a son wanting to play catch with his father. But before the dad obliged, Davis said, he took a map of the world from a local newspaper, cut it into 25 pieces and asked his son to put it back together.
Three minutes later, the son emerged with the map re-assembled. The befuddled father asked how his son performed the task so quickly and, in the process, noticed a picture of a child on the back of the map.
The moral of the story?
"If you put the child together right," Davis said, "the rest of the world will take care of itself."
In addition to honoring the top youth league and high school coaches in Fairfax County, the event also honored the 2009 class of inductees, which included Mike Skinner, John Schaffstall and Eddie Royal.
<b>THE EVENING'S FIRST</b> inductee was Skinner, who coached at Groveton, Marshall and Centreville high schools. The longtime coach was surrounded by many of his former players, including former pros Keith Lyle and Michael McCrary and current Cleveland Browns defensive back Nick Sorensen.
"I wanted to make sure that I thanked everyone that was going to be here," said Skinner, who won a Northern Region title at Centreville in 1999 and region and state titles in 2000. "It's a great thing to do here. Other counties and other areas don't have that."
Schaffstall, a former Braddock Road Youth Club commissioner and a former assistant coach at Robinson Secondary School, insisted that the Hall of Fame was never anything that went through his mind.
"In my mind, it's kind of a shock," said Schaffstall, who's now the defensive coordinator at Strasburg High School. "It was never an aspiration. I just wanted to do the best I could for youth football."
Eddie Royal, a Westfield High and Virginia Tech graduate who caught 91 passes this past season as a wide receiver with the Denver Broncos, was the final inductee.
Though he acknowledged the impact that playing youth football in Fairfax County had on his career, Royal also made a point to emphasize education, calling on his own experience at Virginia Tech when he stayed for his senior year to get his diploma.
"It's a good feeling to be surrounded by a lot of people who supported me and helped me get to where I'm at right now," Royal said. "It's also good to come back and be able to talk to the young kids and try to a positive message about hard work and valuing your education."
<b>OTHER HONORS</b> included a proclamation by Supervisor Cathy Hudgins (D-Hunter Mill), who declared every March 1 to be Mark Meana Day in her district, honoring the longtime chairman of the Fairfax County Youth Football League.
Mike Olsen (Stone Bridge), Stephon Robertson (Edison), Bryn Renner (West Springfield), Jack Tyler (Oakton), Jovan Smith (Flint Hill) and Adrian Ingram (Battlefield) were honored as the High School Players of the Year. Mickey Thompson (Stone Bridge) and Joe Thompson (Oakton) took home Coach of the Year honors.
Joey McCallum (Oakton), Tommy Verbanic (Westfield) and Kyle Spencer (Edison) all received $1,500 college scholarships.
Falls Church director of student activities Jeanne Kelly received the Karl Davey Memorial Award, and Dan Kain Trophies (Jim Preziotti, Larry Grandy and Joe Smith) was awarded the Tom Davis Meritorious Service Award. Jeff Davey of Chantilly Youth Association was recognized as the Commissioner of the Year.