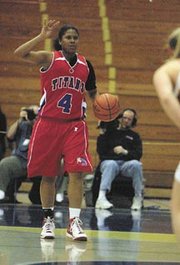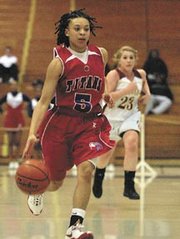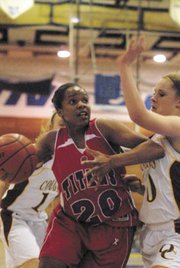 Just a few days earlier, T.C. Williams girl's basketball star Tierra Ruffin-Pratt leaned against a wall at Robinson High School, holding a massive piece of cake that seemed too big to consider eating, answering reporters' questions following the Titans' 55-44 victory over Westfield in the Northern Region semifinals.
They asked what it was like to finally have a chance to win a regional title after being the area's best player, an All-American, and then fall just short of team glory the past few seasons.
"I haven't won one yet. For four years, we've been working and made it to the championship, made it to the regionals every year, but I haven't won it," said Ruffin-Prattas she licked some of the frosting off her fingers. "I've been through a lot."
Unfortunately for Ruffin-Pratt, it turns out you really can't have your cake and eat it, too. In a twist of fate, Ruffin-Pratt went down with a shoulder injury early in the second quarter of Tuesday night's Northern Region finals, and without their best player the Titans lost that elusive title to Oakton, 74-66.
A shoulder injury also sidelined the UNC-bound star in last year's district finals and ultimately caused the team's early exit in the first round of the 2008 Northern Region tournament. Thanks to their semifinal win, T.C. Williams (24-5) still moves onto this weekend's state tournament, where they will travel to Richmond to face either Atlee or Cosby Friday night.
There was "a little shock I'd say at first," said coach Cavanaugh Hagen of her team's reaction to the injury. "She said she's OK but that's how [Tierra] is, she's always OK. You have to rip her off the court to take her out of the game."
How Ruffin-Pratt injured the shoulder was unclear as she declined to speak with reporters after the finals. Hagen said there was no prognosis on the injury, but that the decision is up to doctors as to whether Ruffin-Pratt can play Friday.
<b>IN RUFFIN-PRATT'S ABSENCE</b>, a group of less-heralded players came to the forefront. Seniors Charnelle Huggins (17 points), Khalia Boston (16 points), and Monica Fikes (12 points) and sophomore Jasmine Norman (10 points, eight rebounds) all performed admirably.
Fikes, Boston, and Huggins even combined for their own personal 10-0 run at the end of the third quarter and beginning of the fourth quarter that gave T.C. Williams a 50-49 lead and visions of a monumental win without its star player.
But the comeback effort proved to be too much for the Titans, who were forced to settle for more outside jump shots than usual against Oakton (28-0) without the penetration and attention-grabbing skills of Ruffin-Pratt.
"If Tierra were our only go-to [player], we would have lost by 40," said Hagen. "It's a big void to fill, but they didn't give up the whole time."
Both Ruffin-Pratt and Boston were named to the all-tournament team for their work, while Ruffin-Pratt also picked up Northern Region MVP honors.
<b>HAGEN HAD</b> to almost physically stop her star player from trying to re-enter Tuesday night's game. Ruffin-Pratt kept trying to test out her injured shoulder by beginning to remove her warm-ups.
"I know she looked at me like she wanted to go in but … she couldn't risk that," said Hagen, who had Ruffin-Pratt act as a de facto coach the rest of the way. "I wanted her to stay positive and [coaching] is what she's good at. She sees the floor better than any player I know."
What made matters worse was the way Ruffin-Pratt had started the game. She had 10 points — including two 3-pointers — in the first quarter alone, while playing suffocating defense on Oakton freshman and tournament MVP Caroline Coyer.
Although she was concerned with Ruffin-Pratt's status, Hagen emphasized there is no time to wallow in what could have been. Her attention had already turned towards the state tournament, which was ultimately the place these Titans wanted to end up.
"We're going to states and that was our goal," said Hagen. "We're gonna put this game behind us … and try to knock out any team that gets in our way whether they're No. 1 or No. 100."