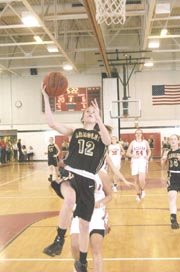 For the past 11 years, the Langley High girls basketball program has experienced numerous good times and winning moments under coach Cheryl Buffo. But the Saxons will have a new leadership look in the future following the recent decision by Buffo to step down from the program's head coaching position.
"Mostly, I just lost a little bit of passion and love of it that I used to have," said Buffo, who coached her final game with Langley Feb. 23, in her team's 52-27 loss at West Springfield in a first-round Northern Region playoff game. "I don't think it's fair to me or the kids to go along [and continue coaching]. I needed a change and to step away."
During her tenure as the Langley head coach, the Saxons made it to six district tournament finals. Their lone tournament title came in Buffo's first season, 1998-99, when Langley beat Madison in the title game.
On two occasions, Buffo's teams reached the Northern Region tournament's semifinals at George Mason's Patriot Center. The Saxons reached the region Final Four in her first season as well as the 2004-05 season when Langley upset Edison in a quarterfinals game. She has accumulated about 160 career wins at Langley.
<b>LANGLEY REACHED</b> the district tournament finals each of the past two years, losing to Madison on both occasions. The recent district title game loss to the Warhawks came Feb. 20, a 40-29 setback, in the contest played at South Lakes High School.
Buffo said her team was informed over this past holiday season that this would be her final season with the Saxons.
"The kids knew at Christmastime as well as the DSA [director of student activities, Corey Bowerman] and most of the parents," said Buffo.
Langley struggled out of the gate this past season, losing six of its first eight games, before turning things around and finishing with an overall record of 15-10. Over the second half of the season, the Saxons were arguably the best team in the district. They won seven of eight district contests going into the title game against Madison. Langley won both of its meetings against regular season district champion South Lakes.
Langley's top players this season were senior forward Rachel Warrick and sophomore forward Audrey Dotson, both First Team All-District selections. Another all-district player was junior guard Kirsten Kody, named second team.
While Buffo was wanting her team to go as far as possible in her final season, she was also ready for season's end.
"I was looking forward to it," she said. "Obviously, I was very happy for the kids that we got to the district finals. It was very disappointing not to play our best in that game. Going out with a district championship would have been great. All in all, it was a great year."
Buffo said her greatest joy coaching over the years has been when former Langley players visit.
"The thing I loved the most was when kids would come back — kids I had coached who I am still in touch with who are 27 or 28 years old now. Just to have that connection. To me, that's more important than any wins or losses. It's neat to have those relationships."
Buffo will continue her duties at Langley as a driver's education and health instructor. She said there is a possibility she could be involved with basketball on some level next school year. And she is willing to advise or help out the school's new coaching staff when it is named.
"I've already told the DSA if they need anything from me, I'm there to help," she said.
Along with Buffo's resignation, assistant varsity coach Jamie Ready and junior varsity coach Bob Fall also stepped down.
"The program is going to grow through a very big change," Buffo said.