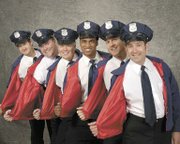 Area theatergoers can look forward to a whole new spin on losing one's shirt when the Reston Community Players' performance of "The Full Monty" debuts Friday, March 6, at 8 p.m.
Originally a 1997 British film nominated for four Oscars, including Best Picture, the Americanized musical takes place in Buffalo, where a group of laid-off steel workers have bottomed out financially. Desperate, they decide to organize a Chippendale's-style all-male strip show to supplement their unemployment checks. While the show's calling card are its striptease numbers — and this production will feature full-frontal male nudity, according to director Sue Pinkman — the baring of bodies is merely a pretext for the characters' baring their souls, she said.
"There are so many levels to the comedy and so many levels to the message," she said. "It's like, people really do need people. It's about love in all different forms, sons and fathers, husbands and wives, it has a gay couple in it, it has an older man in it who isn't ready to retire, so there's all kinds of wonderful elements to it."
WRITTEN BY Tony Award winner Terrence McNally, known for "Ragtime" and scored by David Yazbek, the show premiered on Broadway in 2000 and was nominated in every major Tony award category, including Best Musical. Pinkman, who is also president of the Players, said she saw the original production shortly after 9/11, and explained that then, as now, the musical serves as a distraction from hard times.
"It was two hours that just changed you," she said. "People were laughing and walking out of the theater happy for a little while, it was really something that helped you forget a little what was going on. It was such an escape and it resounds today — there are a lot of similarities with the economy. It's about guys who are out of work and there are so many people who are out of work [today]."
Herndon native Evan Hoffmann stars as Jerry Lukowski, the de facto ringleader of the down-and-out workers. He said he's embraced the challenges of the complete exposure the role demands.
"It's exciting, it's one of the main reasons that I was excited to do the show," he said. "I've certainly never been in a play where I was asked to take my clothes off. I look at it as a test of my own will — it's a nice test of my comfort level with myself, if I'm able to do it."
Complicating matters for Jerry is his recent divorce to Pam — played by Hoffmann's real-life wife Jaclyn Young. Hoffmann said acting alongside Young has made his performance considerably easier.
"SHE ENCOURAGED me even before I said yes to do the show," he said. "She had no problem that I would have to go 'full monty.' It'll be fun and very funny."
Young herself praised her husband's and his co-stars' enthusiasm for their roles.
"I'm constantly amazed at every rehearsal of their comfort level, it's one of the great messages of the show, that everyone looks great, everyone is great for who they are," she said. "It's been really exciting to watch the guys, from beginning, they were saying, 'Oh my gosh, I'm going to have to take my clothes off,' and now no one even thinks about it. I'm in awe of all the guys — it's made our cast quite an ensemble."
The production will run each weekend through March 28, at the Reston Community Center in Hunters Woods Plaza. Tickets, which start at $17, can still be purchased online at www.rcp-tix.com or at the box office.