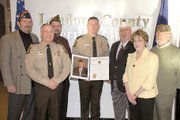 Send announcements or events, which are open to the public at no or minimal cost, to The Loudoun Connection, 7913 Westpark Drive, McLean, VA 22102 or e-mail <a href="mailto:loudoun@connectionnewspapers.com">loudoun@connectionnewspapers.com</a>. Deadline is Friday, two weeks before the event. Photos/artwork encouraged.
Jessica L. Niepokoj and Todd D. Lancaster II of Sterling and Alysa R. Heilmann of Potomac Falls were named to the dean's list at Coastal Carolina University for the 2008 fall semester.
Loudoun County Sheriff's recruits took the top academic spots and leadership roles in the 119th session of the Northern Virginia Criminal Justice Academy's Basic Deputy Sheriff School. Recruit Deputy David L. Hill took the Directors Award for the Basic Deputy Sheriff School for being first in his class in the session and Recruit Lisa M. Beardsley took second. Recruit Aaron M. Kozikowski received the Emergency Vehicle Operators Course Award. Deputy Marty Messemer finished second in both Firearms Proficiency and Emergency Vehicle Operations.
The recruits, who are now state certified in basic law enforcement, are Lisa M. Beardsley, Chad T. Braun, Mark A. Childs, Jesus J. Diaz, David L. Hill, Casey L. Johnson, Ronald A. Kelly, Jr., Aaron M. Kozikowski, David C. Martin, Marty J. Messemer, Christopher T. Miller, David R. Rizer, Wade D. Smith and Curtis E. Toy.
Thomas M. Crutchfield, CPA and partner of Ryan, Sharkey & Crutchfield LLP, has been named chairman of the audit committee for the Loudoun County Chamber of Commerce. In his current role, he leads the firm's outsourced accounting services practice. His primary focus is on assisting clients with financial reporting and assurance issues, as well as tax compliance and planning, internal audit services and employee benefit plan matters.
Loudoun Youth has hired Christina Druther to serve as the group's executive director. Druther will assist the board in supporting and developing programs that help teens become confident, engaged and contributing members of the community.
Apple Federal Credit Union Education Foundation has awarded the Loudoun Education Foundation a $10,000 grant to support the Loudoun Education Foundation Teacher Grant Program. This program allows teachers in Loudoun County public schools to apply for grants that will support innovative classroom or school projects that enhance the educational experience of the students.