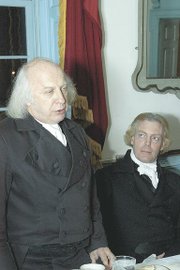 Thought inaugural fever had passed? Think again.
Old Town Alexandria is readying itself for yet another inauguration. No, it's not for Brian Moran's gubernatorial inauguration or even for a seemingly distant 2013 festivities. It's for a re-enactment of the 1809 inaugural banquet of James Madison. The event will feature speeches from former President Thomas Jefferson, President James Madison, Vice President George Clinton, Speaker of the House Joseph Varnum, Secretary of State Robert Smith and Alexandria Mayor William Herbert. The menu will be based on a newspapers advertisement found in the pages of the Alexandria Gazette.
"I wish to purchase eight dozen young Chickens, four roasting Pigs, and 12 young Turkey-hens, of the best quality, for which I will give an extra price if delivered by Monday evening," wrote tavern manager William Caton in a 1809 Gazette advertisement. "I will likewise give EIGHT DOLLARS per bushel for Green Peas, delivered as above."
In addition to the foods Caton specifically requested in the advertisement, the event will also feature a host of seasonal vegetables that would have been available in Marcy 1809 —lettuce, parsley, spinach, radishes, asparagus, broccoli, cucumbers, cabbage and turnips. The banquet will open with a soup and salad, followed by boeuf à la mode and galantine of chicken then vanilla-bean ice cream — although planners said they considered oyster ice cream, which was apparently popular at the time. The meal will conclude with a fruit-and-nut course, which was traditional feature of fine dining of the era.
"The menu isn't all that different than what people might eat today, but it's a much more formal service — and they drank so much more than we do," said Ric Marino, co-owner of Well Done Catering. "Our staff will be in period dress and we'll change the tablecloth between the each course."
<b>THE RECENTLY CONCLUDED</b> election of 1808 will undoubtedly be a hot topic of the day, with Madison and Clinton edging out Federalist candidates Charles Pickney and Rufus King. Although Pickney and the Federalists won most of the New England votes as the Federalists gained seats on the Congress, the Jeffersonian "Democratic Republicans" won twice as many votes in the Electoral College. But Madison was not all that popular in Alexandria.
"He has deserted the principles of WASHINGTON, and become a proselyte to democracy," wrote Alexandria Gazette editor Samuel Snowden in October 1808. "We consider him as having submitted, without a struggle, to the tyrant of the world!! 'FRANCE WANTS MONEY, and we must give it' — for such a man we ought not to vote."
But Alexandria citizens, being residents of the District of Columbia, had no voice in the presidential election. If they had, it's possible that many city voters would have been disturbed by the fallout of Jefferson's embargo. The measure was so unpopular that the outgoing president repealed it three days before leaving office — perhaps the reason the Gazette noted that Jefferson was not toasted at the event. Yet even if he was not popular in Alexandria, Madison would have had little choice for an inaugural banquet that had any measure of civility.
"This hotel was one of the finest establishments in the area, and dignitaries would frequently come here for large functions because we had the space," said Gretchen Bulova, director of Gadsby's Tavern Museum. "Washington was a swamp, and there wasn't much there at this time."