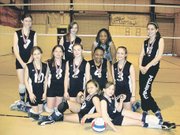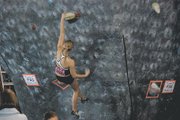 Nine local youths from the Sport Rock teams in Alexandria and Sterling recently competed at the American Bouldering Series (ABS) National Championships held in Boulder, Colo. the weekend of Feb. 13-15. The event hosted 85 climbing teams from across the United States with a total of 332 competitors. For this invitation-only competition, each climber had to place at least in the top four or five finishers at their respective regional competitions held in January 2009. The competition involved indoor rock climbing up to heights as tall as 16 feet.
Sasha Diguilian of Alexandria placed first in her age category at the National event. At 16, Sasha already has won three Continental Championships up against the best from the United States, Canada, and Mexico in sport climbing, This is her first win at the National Bouldering competition. Sasha, already a member of the National Climbing Team, is currently sponsored by Mad Rock, Verve and Brunton.
Tegan Wilson, 12, of Alexandria also, placed fourth in her age group, which elevated her to the National Team for bouldering this year. Tegan has been climbing competitively since she was 10 and qualified for the National Team in 2008 for sport and speed climbing. At the Boulder event, Tegan was the only one of two girls in her age group out of 15 advancing to finals of 36 to master the third challenging finals problem.
The top four finishers at this most recent competition in Boulder automatically become members of the ABS National Team, which further increases their opportunities to climb at national and international events.
Other local youth participants included: Ada Saker, Kacey Loughrie, Leanna Lockhart, Juliet Hammer, Claire Chrissey, Peter Grill and Alex Brown, all members of the Sport Rock gyms located in Alexandria and Sterling, Virginia.
<b>Alexandria Sportsman Club</b>
The Alexandria Sportsman's Club will hold its monthly meeting this Tuesday at the Old Dominion Boat Club. This month's theme is high school basketball and boys' and girl's team coaches from all four Alexandria schools have been invited to attend. Attendance is free and open to the public with a social hour beginning at 7 p.m. The meeting will start around 8 p.m.
<b>Area Volleyball Champions</b>
When most of their friends were outside enjoying the spring weather, members of the Titans 12, Alexandria's youngest girls volleyball team, were competing last Sunday indoors at the Columbia Invitational. The Titans played four matches totaling eight sets and ended the day undefeated and in possession of their second championship medal of the travel volleyball season. The Titans are composed of Alexandria fifth- and sixth-grade students. With this victory the Titans have become one of the most successful under-12 volleyball teams in the Washington region.
The team is coached by Saprina Shomari and trains at Episcopal High School. Members of Titans 12 include Ella Ainsworth, Riley Arnold, Audrey Dervarics, Alexus Foreman, Lauren Forrer, Sophia Holt, Hannah Johnson, Rachel Leckman, Kate Lucas, Cathi Ray and Thali Torres.