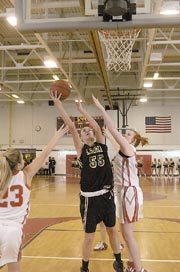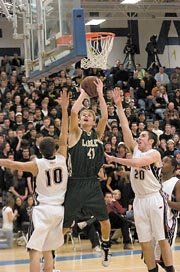 The Langley High boys' and girls' basketball teams both experienced seasons that started slow but finished with a flourish. Two players in particular, senior shooting guard Derek Baker for the boys and sophomore center Audrey Dotson for the girls, provided their respective Saxon teams with significant second half season boosts that made for successful winters. Both earned Honorable Mention honors on the recently named All-Connection Basketball Teams.
The 6-foot-3 inch Baker, named to the All-Connection boys' team, was the driving force for a team that started the Liberty District season winning just two of its first six games before winning eight of its final nine to earn a No. 3-seeding for the postseason tournament. Baker, Langley's leading scorer, was a dominant player over the second half of the season and carried his stellar play into the post season where the Saxons won three consecutive district tournament games to successfully defend their title from the year before. Baker earned tourney MVP honors, scoring 19, 21 and 16 points, respectively, in tournament wins over Marshall, McLean and W.T. Woodson.
During a win over top-seeded Cavaliers in the finals, Baker nailed four, 3-pointers. It was simply an extension of Baker's red-hot, scorching shooting touch over the season's final month-plus.
"He's brimming with confidence," said Langley coach Travis Hess, following the win over Woodson. "His shooting stroke looks great. He's our best player and he's what's making us go."
Baker wrapped up an outstanding career with the Saxons. As a junior, he earned Second Team All-District honors and was a key member for a team that reached the region finals and qualified for the state tournament. At states that season, Baker scored 22 points in his team's loss to Bethel of Hampton.
This year, the Saxons repeated their district success but did not make it to states. Baker, a First Team All-District selection, had an outstanding season for a Langley squad that saw its season end with a first round region playoff loss to Lee.
"He's a kid that can score inside and outside," said Hess, summarizing Baker's all-around game. "He can shoot the ball from the perimeter and go to the basket."
<b>DOTSON</b> was a stalwart figure for a Langley girls' team that began the season 2-6 but rallied to finish 15-10. The 6-1 center, just a 10th grader, earned First Team All-District accolades for the second straight season. She was one of the region's top all-around players this season.
"She anticipates extremely well and is good at blocking shots," said Cheryl Buffo, who stepped down as the Saxons' head coach following the conclusion of the recent season.
Dotson's presence inside the paint opened up the Saxons' perimeter play on offense and made things tough for opposing front court players all season long. One of her best games was a 15 point outing in Langley's 60-39 road win over regular season district champion South Lakes on Jan. 6.
Langley entered the district tournament as the No. 2 seed and defeated both Jefferson and No. 3 Woodson to reach the finals against No. 4 Madison. The Saxons lost that game, despite nine points, 11 rebounds and four blocked shots from Dotson, who along with senior teammate Rachel Warrick was named to the all-tournament team.
"She's just an all-around fantastic player," said Buffo, of Langley's standout undergrad that still has two years left with the Saxons.