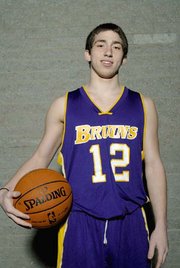 So why is Hubert Davis, a former NBA player and current ESPN analyst, a fan of the Lee boys' basketball team? It kept his career scoring record at Lake Braddock Secondary School intact.
In his four years as a Bruin (1984-88), Davis totaled 1,604 career points. Dominic Morra, a senior guard and a four-year starter on this year's team, ended a Patriot District quarterfinal game against Lee on Feb. 17 with 1,561 career points.
With Lake Braddock on the unwanted side of a 50-48 outcome against the Lancers, Morra would subsequently lose out on two additional opportunities to break Davis' record, which would've included the district semifinal round and at least one regional tilt.
"I'd turn on ESPN on Saturday or Sunday and it's Hubert Davis, I was just like, 'Oh, man,'" Morra said.
As it stands, Morra averaged 30 points per game this season to go along with seven rebounds and three steals per contest, while all three numbers were tops on Lake Braddock's 14-8 team. All three numbers also warranted Morra's selection as a first team All-Connection choice.
<b>WITH ABOUT</b> a month to go in the season, Morra remembered asking Lake Braddock director of student activities Mark Martino how close he was to matching or breaking the school record. Martino responded with a quick, 'I'm not gonna tell you that.'
Martino explained that his answer wasn't intended to deny Morra the truth, but more so because he felt it was the coaching staff's responsibility to let the player know. Because with a player knowing something like that, obviously, there may be a tendency to alter a game plan or two.
Regardless, Morra never found out.
"I kind of knew what I needed," Morra said, "so I'm in class doing the math and thinking, 'What if I do that or what if I do this?'"
While Morra and Davis might sit next to each other in the Lake Braddock record book for quite a few years, their respective styles aren't nearly as similar. Davis was known primarily as a three-point shooter -- he leads the Dallas Mavericks in all-time three-point percentage at .460 (249-for-541) -- and Morra, despite being only 5-foot-10, has made more of a name for himself as a distributor and a slashing, drive-to-the-basket-type player.
"He has a very high IQ for basketball and he knows where everybody on the court is supposed to be," said South County boys' basketball coach Wendell Johnson. "He's able to put the ball anywhere he wants to on a pass.
"He's real court-savvy, a smart player. He didn't do the same move two or three times in a row. He'd do a different move the next time, so it was always something different."
<b>SO ALL OF</b> these qualities should have Division-I colleges and universities stumbling all over themselves to sign Morra for the 2009-10 season, right? Not quite. Though he has a standing offer to walk on at The Citadel, interest by other Division-I schools for Morra could be described as mild at best.
But Morra isn't complaining. Like many of the challenges he has encountered at Lake Braddock, including leading a team this season on which he was the only senior and the Bruins' tallest player was 6-3, Morra has embraced the recruiting situation -- or lack of it -- as a challenge.
Morra knows that he could likely make the team as a walk-on at some Division-I schools but that just may not suit his style. Ever since he has arrived at Lake Braddock, the bench has been about the only place on the basketball court where Morra hasn't been.
"A lot of people have sat for two years and maybe made it into the lineup the third year," Morra said. "I know at some of the Division II and Division III schools I'd get more playing time, and be less of a role player and more of a major player. Starting all four years, that's one of my main concerns just because I've never been on the bench."
He knows that playing four years at a perennially-successful program such as Lake Braddock stands for something. He also knows that he has a lot to offer a potential suitor, should he fine one.
"I grew up playing against [O'Connell's] Kendall Marshall and [Gonzaga College's] Tyler Thornton my whole life and they're going to North Carolina and Duke," Morra said. "So I was growing up against the competition that is going to the best and I think I can play against them."