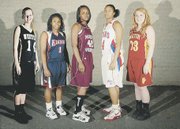 Two representatives from both Oakton and Madison High Schools have been recognized on the All-Connection Newspaper basketball teams.
The Oakton High girls are represented by head coach Fred Priester, who has led the Cougars to the state AAA semifinals with a perfect 29-0 record, and senior standout player Erin McGartland, one of the more versatile players in the Northern Region. Priester was named The Connection Girls' Coach of the Year, while McGartland was named to the First Team All-Connection girls' squad.
Meanwhile, from Madison, Will Clarkson made Honorable Mention on the All-Connection boys' team and Danielle Landry made Honorable Mention on the girls' team.
Landry was instrumental in leading the underdog Madison girls to the Liberty District tournament title. She was the Warhawks' lone starter back from the previous season, and a settling influence on this year's squad, which started the season 0-5 before things began to turn around under first-year Madison coach Kirsten Roberts.
A forward, Landry averaged nine points and nine rebounds per game for the 13-12 Warhawks. She played outstanding defense and earned First Team All-District honors. Following the Warhawks' district tournament finals win over Langley, Landry, who scored 11 points against the Saxons, was named the tournament MVP.
"She's just a workhorse and he's all over the court," said coach Roberts, of Landry. "She plays forward, but sometimes she has to bring the ball down the court. She is almost always our leading rebounder. She's 5-foot-10 going against girls who are 6-3. She's pretty much our senior leader."
Meanwhile, the Madison boys, who were unbeaten at home this season, were led by First Team All-District player Clarkson, a senior post player who excelled as a defensive player while also averaging 19 points per game and shooting an uncanny 62 percent from the field. The 6-foot-5 inch Clarkson, Madison's football QB last fall, saw limited basketball minutes as a junior, but emerged into a star this season for the 14-9 Warhawks.
"He's a post player that can score as a guard," said Madison coach Chris Kuhblank. "Will does everything. He draws charges, blocks shots, rebounds and scores inside and outside."
<b>OAKTON'S GIRLS</b> have a fabulous leader and all-around player in McGartland, a 5-8 forward who excels both inside and away from the paint.
"She's a do-everything player," said Priester. "She can shoot the three and has solid post-up skills. She's very intelligent and knows every position on the floor."
A team tri-captain, McGartland averaged 12 points and 10 rebounds per game this season. She earned MVP honors following Oakton's Concorde District tournament finals win over Westfield. McGartland scored 16 points and pulled down nine rebounds in Oakton's Northern Region title game win over T.C. Williams last week. In postgame ceremonies, she was named to the seven-member all-tournament team.
Her unselfish, team-first mindset has set the tone for the Cougars' success this season.
"Erin is without a question our best leader," said Priester.
Priester earned The Connection's Coach of the Year accolades because of his ability this season to blend his team's experienced and new players into a cohesive winner. The Cougars have been playing their best basketball in recent weeks during the postseason, running the court when it can and also playing a solid half court game in which movement without the ball and crisp, fundamental passing has led to high percentage shots and open three-point looks.
Oakton's region title game win over T.C. last week was the program's third in nine years under Priester, one of the region's best-ever girls' basketball coaches.