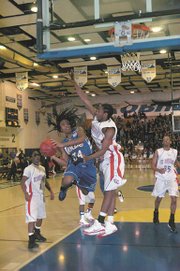 When the Northern Region Council voted unanimously last May to shift the final two rounds of this year's region tournament from George Mason University to Robinson Secondary School, the backdrop of one of Fairfax County's most enjoyable postseason events changed.
The bulk of the tournament's participants, however, did not.
In the 2007-08 Northern Region Final Four, three of the eight boys' and girls' teams came from the Patriot District — second among the Concorde (0), Liberty (4) and National (1). Both champions, the Lee girls' and T.C. Williams boys' teams, were members of the Patriot District.
This season, four of the eight Final Four squads came from the Patriot District, with the T.C. Williams boys' team winning its third straight region title.
So why the consistent presence among those teams in the southern part of Fairfax County?
"There's a rec center on every corner [down south] … you can't do nothin' but play basketball," said Lee senior Frank Holloway Jr., following his team's 79-61 loss to T.C. Williams on Saturday, Feb. 28. "It can't do nothin' but help you get better."
Holloway, who originally attended T.C. Williams and then transferred to West Potomac for two years before finally ending up at Lee, said he was always at Cora Kelly Recreation Center in Alexandria, and spent time at Charles Houston Recreation Center as well.
When examining the 10 first-team All-Connection selections, three (Lake Braddock's Dominic Morra and T.C. Williams' Edward Jenkins and Tierra Ruffin-Pratt) hail from the Patriot. Meanwhile, both Players and one of the two Coaches of the Year have Patriot roots.
<b>OF THE FOUR</b> districts that comprise the Northern Region, the Patriot has the best winning percentage this winter at .516 (97-91). The Concorde is second at .503 (77-76), while the Liberty is third at .478 (87-95) and the National is last at .476 (78-86).
West Springfield girls' basketball coach Bill Gibson, who started at the school off of Rolling Road in 1986-87 and has amassed over 500 wins and two state titles in the 23 years since, pointed to the continuity at the top of the district, where no fewer than three and often as many as five teams have been region stalwarts year after year.
Once a school has been at the top of the heap for years at a time, a tradition is established, much like the one Gibson has going at West Springfield.
"You develop traditions at schools," said Gibson, who has had only one losing season at West Springfield, his first one. "Coming here, we developed a tradition that means good basketball and hopefully kids coming in know that they're going to get better when they get here."
The district has also been able to bring in high-level coaches from the outside. Hayfield's second-year coach, 70-year-old Ron Palmer, had the Hawks in the Virginia AAA state quarterfinals two years after they won a total of six games.
Furthermore, T.C. Williams' pair of first-year head coaches, girls' coach Cavanaugh Hagen and boys' coach Julian King, combined for a 51-9 record between them, with King's group winning its third straight Northern Region title.
At South County, defensive-minded Chrissy Kelly, who arrived at the Lorton school after winning state titles in 2004 and 2006 at Forest Park High School in Woodbridge, has brought instant success to her new employer. The Stallions won 18 games this year, three times as many as they did the year before.
"You have to prepare for every game," Kelly said. "There's no nights off. I wouldn't want to be in any other district because it's a district that prepares you every single night and if you get a chance to play in the postseason, I think you're very prepared for it."