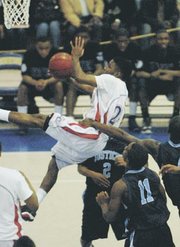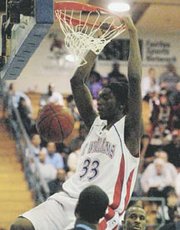 As the clock wound down in the third quarter of the girl's AAA state quarterfinals Friday night, T.C. Williams senior Khalia Boston pulled up for what appeared to be an easy jumper.
After the ball rattled in and out, Cosby's Becca Wann picked up the rebound, raced down court, and nailed a running 28-foot 3-pointer as the buzzer sounded. It was just another reminder that this would not be the Titans' finest hour, as Cosby jumped all over T.C. Williams from the get go en route to an 86-59 victory.
The Titans were without star player Tierra Ruffin-Pratt, who injured her left shoulder in the second quarter of the Northern Region finals last Tuesday night.
With Ruffin-Pratt on the bench in street clothes, Cosby (28-1), located just outside Richmond, opened up an early 24-10 first-quarter lead and never looked back, shooting a scorching 56.1 percent from the field. The Titans could never cut Cosby's lead below 15 points in the second half. It didn't help that T.C. Williams had 20 turnovers, many of which resulted in fast-break lay-ups for Cosby.
But much of the talk afterwards surrounded the absence of Ruffin-Pratt, the All-Connection Player of the Year, 2008 Parade All-American, and University of North Carolina commit. While she was averaging more than 18 points per game this season, her presence was missed most on the defensive end, where she is T.C. Williams' most imposing interior player with 4.5 blocks per contest.
Cosby took advantage with countless easy lay-ups thanks to a decided size advantage. Leading the charge for Cosby was a trio of juniors — Jazmin Pitts (19 points, 13 rebounds), Andrea Bertrand (24 points, seven rebounds), and Mann (31 points, 10 rebounds).
Pacing T.C. Williams (24-6) was sophomore Jasmine Norman (15 points, 12 rebounds) and senior Charnelle Huggins (11 points).
"It was obviously a big presence that was missing," said T.C. Williams coach Cavanaugh Hagen. "We had a lot more turnovers than we've been prone to have and then our shots just weren't dropping. It was just one of those nights where things just didn't go our way."
<b>THE T.C. WILLIAMS BOYS'</b> also felt the wrath of a Richmond area school in the AAA state quarterfinals the very next day. After a near-flawless first half in which they committed just two turnovers, the Titans came out flat after halftime and fell to John Marshall, 72-61, last Saturday night.
The loss ended the season for T.C. Williams (27-3), just shy of its goal to repeat as AAA state champions. Senior guards Gavin Peterson and Edward Jenkins led the Titans with 16 points apiece. But it was in the paint that the Titans can ultimately blame for their downfall. John Marshall outrebounded T.C. Williams, 40-21, as the Titans inside presence, junior Billy Rowland, sat out much of the second half with foul trouble.
Add in some horrendous transition defense (John Marshall shot better than 60 percent from the field on mostly fast-break dunks and lay-ups) 50 percent shooting from the free throw line, and some careless turnovers down the stretch and you have a recipe for disaster in the state tournament.
"Nobody was guarding the ball, we just weren't focused on defense," said Peterson. "Our offense was clicking, but our defense wasn't working."
The Justices committed 24 turnovers, more than double the Titans' 11, but it didn't make much difference as they jumped out to a 12-1 run to begin the second half. John Marshall was led on the inside by senior Quantae Cooley (19 points, 14 rebounds) and ACC recruit Travis McKie (17 points, 15 rebounds).
"Just lack of concentration, it has been our problem all year long," said T.C. Williams coach Julian King. "We've just been able to overcome it sometimes and we fell short against a good team. When you play against a superior team and you make mistakes, you can't always rebound from it."