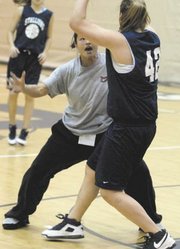 Prior to taking control of the girls' basketball program at South County, Chrissy Kelly racked up 143 wins and two Virginia AAA state titles at Forest Park High School in Prince William County. In only one season on the Stallions' bench, Kelly has probably deflected praise four times as frequently as she won at Forest Park.
But the numbers still show, regardless of whether Kelly wants to take credit for the transformation or not, that a six-win team in 2007-08 won exactly three times that many games this season. South County (18-7) also reached the Northern Region quarterfinals.
"I don't think it's anything but the kids' willingness to work," Kelly said. "They're the ones that made the choice to buy into the program."
Kelly didn't adjust the rulebook to allow 10 girls on the court at one time, and didn't figure out a way to have her players levitate 6 inches from the basket. She actually has a young, talented team, led by sophomore Simone Antwi, a first team All-Patriot District selection.
Antwi, a second team All-Connection pick, averaged 15.6 points per game this season and twice she reached or surpassed the 20-point plateau. A first team All-Northern Region selection, Antwi also excelled as a middle hitter on the school's volleyball team.
"They have some talent there," said West Springfield girls' basketball coach Bill Gibson, a veteran of 23 years and two state titles.
<b>WHEN KELLY</b> first approached her team about its new set of expectations, junior guard Fatu Conteh started to worry. She didn't know exactly what Kelly meant but she thought that whatever it was would involve a lot of running.
"She intimated me. … I'm not going to lie," said Conteh, an honorable mention All-District pick, of the new coach. "I just thought we were going to be running suicides every single day in practice but it really wasn't [like that]."
The change in philosophy was more centered around a family-style atmosphere and a re-dedication to defense, two things Kelly believes translate anywhere, no matter what the talent level may be.
The changes worked. Quickly.
South County opened with a 70-69 upset of region semifinalist Mount Vernon and followed by winning each of its next four games. The Stallions went 9-5 against district competition during the regular season and were ousted by West Springfield in the semifinals of the district tournament.
Next year's group will only be missing one player, 6-foot-1 forward Rachel Morris, from the 2008-09 model, which, Kelly said, was only meant to set the standard for years to come. Everything else has just been icing on the cake.
"It was a definitely mental transformation," Kelly said. "I have great kids who, like I said … it's what they chose to do. And I think we've laid the foundation and we'll see where we go from here."