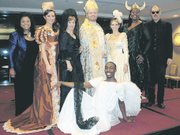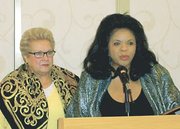 Students from George Mason University's opera program are making their mark on the national scene. On Jan. 8-13, they competed in the Collegiate Opera Scenes Competition, a national competition of the National Opera Association's (NOA) 54th Annual Convention, and took first place for the first act finale of "Too Many Sopranos," a comic opera about a group of sopranos vying to get into Heaven.
"To win this award means we have been elevated to a national level because we were judged by a national team of stage directors," said Professor Patricia Miller, director of vocal studies at GMU.
"This was one of the best performances we've ever done," said Miller. "It was really electrifying. They really rose to the level or professional artist for this particular scene." The National Opera Association is made up of national and international artists, educators and conductors from across the country.
"The vocal talent was really outstanding," said Elizabeth Vrenios, president-elect of the National Opera Association, which helped organize the competition. "I know the singers are receiving very good training at George Mason."
"There was a clear understanding of character, and it was a complicated scene they brought to that convention," Vrenios said. "It required seven singers on the stage (there had to be six), and so the traffic pattern or the control of what was happening on the stage was complicated."
<b>
ACCORDING TO </b>Bill Reeder, dean of GMU's College of Visual and Performing Arts, and former opera singer, "They are a reflection of a person who in my experience is a person who is truly a first class teacher of young voices, Patricia Miller." Reeder said that the school's partnership with the Virginia Opera is a bonus because the company gives master classes to GMU students and work with them four times a year when they do performances. "Students have models," Reeder said. "They have interactions with a very professional team," adds Reeder. The other bonus is Rick Davis, who Reeder calls a superb stage director with a tremendous affinity for the young artist.
"The piece was funny and engaging, so none of us were very surprised," he says.
Miller said the GMU opera program was started in 1995, and the group had performed "Too Many Sopranos" two years ago. After submitting a tape, GMU was selected as one of five schools to sing at the convention. The GMU students were evaluated by judges for vocal ability, staging of the scene and convincing portrayal of the characters. They wore costumes borrowed from the Washington National Opera.
"It validates the exciting work that's getting done here by our students," said Miller. "We're kind of the 'Little Engine That Could."
Students who made up the scene were Adrianna Sgarlata, former Miss Virginia from Fairfax Station; Alia Waheed of Washington, D.C. who graduated from the Duke Ellington School; Patricia Hussey of Falls Church, a graduate student and member of the Washington National Opera Chorus at The Kennedy Center; Jessica Buckman of Norfolk, a junior in vocal performance; graduate student Chip Hewitt of Fairfax; and Darrick Speller of Washington, D.C., and graduate of the Duke Ellington School. Their head opera coach was Michael Crabill, on piano, who collaborated with Miller as stage director.
Four of these singers also participated in the Amalfi Coast Music Festival in Italy last summer in an opera called "Gianni Schicchi" by Puccini. They have been invited back in July to do "The Marriage of Figaro" with Joseph Walsh conducting.
"And all these students are training for careers in vocal performance, so I think they're off to an excellent start," said Miller.
GMU's Opera program will next perform "Street Scene" on March 27-28 at 8 p.m. at the Harris Theater on GMU's Fairfax campus. It was written by Court Weill, a German-American composer with lyrics by Langston Hughes. With a cast of 25 performers, the six people who won the competition will play the main roles.
After that, they'll perform "Scenes and Solo Arias" in April 18 at 7 p.m., a fund raiser at the Country Club of Fairfax with fine dining and opera music. This event is not open to the public.