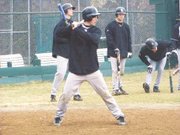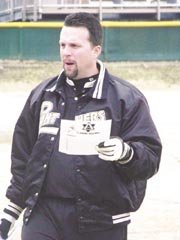 Billy Emerson walked through the door, made a right turn near the leaf rakes and unused cans of white spray paint and ducked into a musty-smelling locker room, complete with a TV/DVD combo in the upper left-hand corner of the room and a worn out couch stashed in back.
Emerson unlocked a second door, which led to his office and a momentary reprieve from the smell. There, between a bigger couch, a recliner and another outdated TV set with VCR tapes stacked next to it, Paul VI's baseball coach sat with his arms folded, backward, in his desk chair.
This source of comfortability exists behind home plate of Paul VI's baseball field, where Emerson, upon arriving at the school in the fall of 2002, realized that the team did not have sufficient locker room space inside the school. So he led an effort to construct a facility from scratch in the fall of 2003 through the winter of the upcoming 2004 season.
The Panther players love it. The building provides them with a little slice of home, only without having to deal with any of the occasional annoyances of occasionally being there. When two players want to arrive early to take some extra swings, there's even a key hidden.
"It helps a lot, having a place to go with just the team," pitcher Tyler Costello said. "Nobody else is allowed in here. It's just ours. And no other team really has that in our conference, and it's a huge advantage."
<b>IN ADDITION</b> to the locker room construction, Emerson has built Paul VI's baseball program into one of the area's finest. In the past four years, Paul VI has won 104 games. In the past six, 33 Panthers have moved on to play college baseball, including all nine seniors from last year's 27-3 team, which won a Virginia Independent School Athletic Association state title.
This year, Paul VI finds itself at the beginning of another cycle of talented players.
"This is kind of a new group," Emerson said. "And I see in this group now … here comes another fantastic young group that we get to have for the next three or four years, which is cool. It's kind of like starting over."
With those nine gone, senior Chad Morgan, one of the top catching prospects in all of Virginia and a Virginia Tech signee, will assume primary leadership duties. A season ago, Morgan hit .408 (31 for 76) with 28 RBIs, 22 runs scored and a team-best 24 walks.
"We have a young team this year, so it will be good to go out there and see how some of these different guys perform in game situations," said Morgan, who has also garnered significant professional interest. "I expect to have a better year than I had last year. … You can never be satisfied with what you have."
Costello, a righty, was 8-1 with a 1.81 ERA last season, posting team-highs in innings (46 1/3) and strikeouts (48). In a 17-0 win over the Hearts Lions this past Saturday, Costello tossed four innings and struck out eight to get the win in a combined perfect game with Koji Marks, the first such feat in school history.
Emerson also praised the work of Lance Veeder, a sophomore utility player who's starting his second year on the varsity squad. In 84 at-bats last season, Veeder hit .333 with three homers. Mike Murakami, a junior, leads all returners with a .479 average (46 for 96) last season, with five homers, 27 RBIs and 39 runs scored.
<b>W.T. WOODSON</b> loses seven seniors from last year's 11-10 team, which lost to McLean in the second round of the Liberty District tournament.
Senior outfielder Max Waizenegger hit .283 last year with 14 runs scored, 14 RBIs and three homers, while middle infielder Dylan Robeson had a .305 on-base percentage last spring with seven runs scored and nine RBIs.
The McGillicuddy twins, sophomores Joe and John, will anchor the Cavaliers' rotation. The brothers combined for a 3-3 record in 43 innings as freshmen for eighth-year coach Chris Warren last season.
<b>AT FAIRFAX,</b> sophomore left-hander Joseph Vanderplas could have a breakout season. According to second-year coach Kevin Simonds, he has "tremendous movement on his fastball and a tremendous drop in velocity with his breaking ball and changeup."
In addition to first baseman/pitcher Danny Broyles and third baseman Joey Garon, pitcher Jordan Kuchel, who started six games last year and posted 18 strikeouts with a 4.35 ERA, will return to lead the Rebels, who finished 4-19-1 overall, 2-10 against Concorde District opponents last spring.