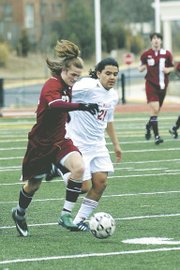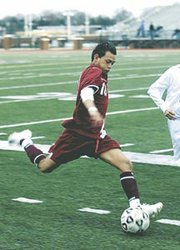 With his team trailing at halftime of last Thursday's season-opening match against T.C. Williams, Mount Vernon boys' soccer coach Bobby Garza reminded the group of shivering players surrounding him that four more goals would be scored in the second half.
"I told them, 'You guys have a chance to put four goals in the back of the net,' but to be honest we had such a horrible practice [the day before] and I thought they were still feeling that," said Garza later.
A stiff wind, temperatures dipping into the low 40s, and some sloppy defense didn't help as the Majors began to dig themselves out from a 3-1 deficit entering the second stanza — something that would have undoubtedly buried Mount Vernon last season when it stumbled to a 3-7-3 record.
And yet 40 minutes after that talk, there stood a collection of grinning Majors after Mount Vernon made its coach look prescient, exploding for four second-half goals en route to a 5-4 victory over the defending Patriot District champion Titans.
Sloppy passing turned crisp, loose balls seemed to always find Mount Vernon feet, and most importantly, the Majors stuck together as they mounted a furious comeback.
"I feel like the past few years we weren't really coming together as a team," said junior Eric Williams after scoring the game-tying goal with a miraculous shot from nearly 35 yards out. "And today I think it showed that we're more than a team, we came together as a family out there, coming from behind and winning the game."
"I think this will carry us on and give us some momentum for the rest of the season," said senior John Wright, who was the star, capping off his first-career hat trick with the game-winning goal.
Like his coach, Wright's words rung true as Mount Vernon also defeated South Lakes, 4-2, last Friday to start the year 2-0 and cement itself as an unforeseen force to be reckoned with in the National District. Sweeper Dylan Bischoff led the Majors with two goals against the Seahawks, while Wright and fellow forward Dannish Decardi-Nelson chipped in a goal apiece.
Mount Vernon possesses a plethora of riches on the offensive end with the converted sweeper Wright and Decardi-Nelson leading the charge. That doesn't even take into account junior Francisco Rodriguez, a first-team All-District forward a year ago, who is still getting his rhythm after breaking his leg in the offseason.
"We already had that gel thing and the family thing going, but still, everyone has that me-first attitude sometimes," said Garza. "At halftime, they kind of reconciled their hearts and found out they can do this if they play as one unit."
<b>THE WEST POTOMAC</b> boys' soccer team wasn't as lucky as its counterparts down Route 1. The talented Wolverines had to begin the season suffering two-straight losses in order to fully understand where their learning curve stands thus far.
West Potomac came out flat, losing to Edison, 3-0, last Wednesday. The Wolverines played much better in a 1-0 loss to Robinson two days later, but a goal 25 seconds into the game cost them in the end.
Coach Andrew Peck realizes it will take some time to come together since half of his team wasn't on the varsity last year when West Potomac made it all the way to regional quarterfinals, losing to state semifinalist Stone Bridge.
The Wolverines will be defensive-oriented this year led by senior captains Freddy Boateng and Kwasi Owusu. The coach also expects big things from goalie Orlando Naresin in his first full season in net.
"I think this year with the way our district is formed, we could match or better what we did last year," said Peck. "Now it's up to the boys. They've got a couple games under the belt and when they're ready to play, I think they'll be one of the better teams in the area."
West Potomac and Mount Vernon will face each other Wednesday March 25 at West Potomac.