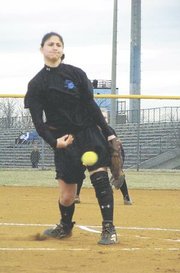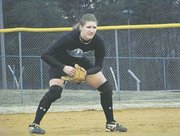 So much for a smooth transition into high-level, high school softball. At Centreville, 13th-year coach Rich Ferrick has wasted little time getting his young lineup acclimated to the rigors of Northern Region softball.
With a scrimmage last Wednesday against South County, the Wildcats faced Chelsey Dunham, who posted a 0.66 ERA, 223 strikeouts and walked only 13 batters for the Stallions last season.
That was followed by another scrimmage last Friday against West Potomac and then this past Tuesday, Centreville kept the competition coming as it traveled to Battlefield for its first exhibition game of the season, testing its young team against Brittany Black, whose 0.46 ERA spurred Battlefield to the Virginia AAA state title game last spring.
"We purposely set it up so we'd see good pitching right from the get-go," Ferrick said. "We know what really counts is how you finish in May, so we wanted to do a lot of stuff early on to get our kids going and challenge them a lot."
And with the likelihood that three freshmen and two sophomores will play a significant number of innings, Ferrick knows that how they perform will dictate whether or not Centreville can replicate last season's 20-4 record and an undefeated mark (12-0) against district opponents.
"As soon as we catch them up to the speed of the game here," Ferrick said, "I think we're going to be OK."
The unenviable assignment of getting those five players -- freshmen Lexi Murdock, Courtney Burke and Kara Love, as well as sophomores Cara Donovan and Karen Johnson -- adjusted to high school softball also rests with two of Centreville's surest commodities: seniors Victoria Marvin and Jess Ferrick.
Marvin, a slick-fielding shortstop, hit .471 last spring with a .779 slugging percentage and an on-base percentage of .532. She also hit four homers and had a team-high 28 RBIs. Jess Ferrick, a pitcher who'll take over for George Mason freshman Brianne Pease, hit .411 with 22 RBIs.
"It's been easy," Jess Ferrick said of mentoring the younger players. "They all have great attitudes and the young kids are all working really hard and trying their best, so it's been pretty easy so far. They've been doing really well."
"Sometimes it's hard," Marvin countered. "I'm so horrible at telling people what to do, but I'm working on it. I'm trying to make it easier because it has to be done."
<b>WESTFIELD</b> had seven freshmen who saw considerable time en route to winning the 2008 Northern Region title with a 5-4 upset victory over Herndon. Fifth-year coach Dean Ferington is hoping that his team can build upon that late-season momentum from last year when the team finished at 16-11.
"Having seven freshmen and winning the region, I think they understand a little bit about what we're asking them to do, so I think there is a carryover," said Ferington, who has a record of 60-32 at the school, with Virginia AAA state tournament appearances in 2005 and 2008. "I think they're excited to try and get back there.
"But what they don't understand is there's a lot of luck involved, and it's not just always hard work. I think we're pretty talented, but we can't just throw our gloves on the field and say here we are. We still need to take care of our business."
At the head of that now-sophomore class is shortstop Jess McNamara, catcher Frankie Martinez, utility player Jackie Martinez, pitcher Alex Tenny, pitcher Jennifer Godman, second baseman Alex Bohrer and outfielder Alex Burnham. Seniors Robyn Mendlow and Susan Slusher and junior Kasey McMahon will provide quality veteran leadership.
<b>CHANTILLY</b> will take the field with several new faces, as the Chargers bring back only four starters from last year's team, which went 3-16 overall with a 1-11 mark against Concorde District opponents.
Senior shortstop Megan Fouse returns after hitting .429 last spring, while classmate Sarah Prosser, a third baseman, is back after hitting .329 for fourth-year coach Suzy Willemssen a year ago.