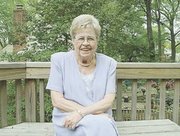 Irene L. Guback, 78, who worked as a personal secretary to three congressmen, died March 6 at INOVA Mount Vernon Hospital in Alexandria of multiple ailments. She was the wife of Hall of Fame sportswriter Steve Guback of the old Washington Star. They lived in Waynewood since 1965.
Irene Lapish Guback was born in Statesville, N.C., and came to Washington out of high school to work with the Federal Bureau of Investigation in January 1951. She left the FBI in March 1960 to join the staff of Congressman Joseph W. Barr of Indiana. Upon his defeat in November 1960 she was offered a position as personal secretary to freshman Republican James Harvey of Michigan.
Mrs. Guback served in that position until April 1974 when Rep. Harvey received a federal judgeship in Michigan. Mrs. Guback then worked for a brief period in the Office of the Secretary of Commerce before joining the staff of Rep. Guy Vander Jagt in 1975 as his personal secretary.
After 25 years on Capital Hill, Mrs. Guback retired on April 23, 1985 to become a housewife and travel with her husband Steve Guback, who was an award-winning sportswriter for 20 years with the old Washington Evening Star until its demise in 1981.
Mrs. Guback's so-called retirement lasted only a few months when the Rev. Lee Sheaffer asked her to serve as a secretary at Aldersgate United Methodist Church in Alexandria on an interim basis. She continued in that role for more than a decade serving with the Revs. Ken Whetzel, Bob McAden, M.J. Kim and Dennis Perry. She became ill with an aneurysm in the aorta during a Yuletide in Bavaria trip with her husband in 1998 and was hospitalized frequently after that.
When her husband was inducted into the Virginia Sports Hall of Fame in 2005, he referred to her as "the most courageous person I know." She not only spent three months in the hospital after the aneurysm operation, but later battled through a stroke that caused her to lose sight in one eye, hip surgery, two gall bladder operations, a broken collar bone and frequent hospitalizations for infections and dehydration. Her latest hospitalization lasted 12 days.
Mrs. Guback has a reception room at Aldersgate United Methodist Church named in her honor and she and her husband were recently named to the Presidents' Circle at Indiana University, his alma mater, where they have three scholarships in their name. In addition to her Capital Hill and church friends, she was well-known among Washington Redskins players and coaches, plus sports administrators from her husband's association with the President's Council on Physical Fitness and Sports.
Survivors include her husband of 44 years, her sister Gerald Sue L. Miller and her brothers Lawrence E. Lapish and James C. Lapish, all of Statesville, N.C.