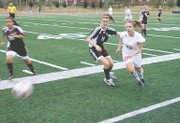 Mount Vernon girls' soccer coach Tony Garza knows there's no template on how to replace someone like last year's National District Player of the Year Beverly Hoath. Instead, he's simply turning things over to the next best thing: her younger sister and last year's team MVP, senior Shelley Hoath.
Maybe that task sounds daunting to some, but Garza knows the latest Hoath is more than up to the challenge.
"There were games last year where both of them would just ride each other," said Garza. "They would almost take turns trying to get each other to play better, but I don't think Shelley ever worried about being in [Beverly's] shadow. She wanted to prove she was the best."
And if she ever feels alone out on the field without her older sister, all Shelley will have to do is look to her right, where her younger sister, junior Marcey Hoath, will be patrolling the midfield this year.
Shelley and Marcey are the third and fourth Hoaths to come through the Mount Vernon girls' soccer program after Beverly last year and eldest sister Ashley two years prior to that.
And while Beverly's stats were gaudier last season, it's Shelley who Garza says dictated the flow of games. After a successful 10-5-2 campaign a year ago, Shelly just hopes she can keep the winning soccer tradition alive and kicking.
"I learned so much from them," said this year's Hoath of her older sisters. "We'd go outside and play against each other and then also just in terms of stepping up as a leader. I got to watch them do that."
The Majors' season got off to a slow start last Wednesday when they lost 2-0 to T.C. Williams, but that had more to do with the fact that inclement weather had forced Mount Vernon to practice almost exclusively indoors during the preseason. The team kicks off its district schedule against Edison Wednesday, after the Gazette's deadline.
"There's only so much you can do inside," said Garza. "Once we get more time together, we'll start transforming back into what we were before."
<b>OVER AT WEST POTOMAC</b>, girls' soccer coach Jean Coder doesn't have any familial bonds that will help bring her team together, but she's got something close to it.
The Wolverines return 10 juniors, all of who were a part of last season's encouraging 8-6-1 campaign. And about nine of them play for the same club team outside of school, meaning they're around each other seemingly 24/7 during soccer season.
Last year, though, with so many youngsters, coming together as a team was a challenge. That's why this past weekend Coder and her team went to Virginia Beach to participate in an early-season tournament, hoping to get as many games under its belt as possible before district play begins.
Coder will look towards her four junior captains — Alex Butler, Morgan Carter, Linnea Markson, Michelle Gilmore — to provide leadership to a squad that has the potential for greatness if they can learn to play as a team more consistently.
"That's what we're hoping for," said Coder. "Last year they were all sophomores and they just didn't quite gel together. I think this year will be different because they've got the necessary talent."