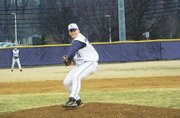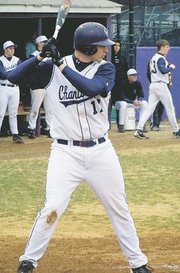 When John Colella entered a game last season, the situation often necessitated his arrival, with the preceding pitcher either too tired or too ineffective to continue. A closer, Colella was rarely asked to record more than three or four outs at a time, all of them at 100 percent.
But with the pitchers that Colella spent his junior season relieving -- Division-I recruits Max Langford (Dartmouth), Pat Somers (East Carolina) and Chris Yates (William & Mary) -- now gone, the situations that Colella will face this spring will be different.
In his new starting role, the right-handed Colella will team with classmate Jordan Johnson, a high-kicking lefty, atop the team's rotation. And whether the Chargers can replicate last year's run to the Northern Region title game hinges largely on the performance of those two.
In 15 2/3 innings last spring, Colella posted a 2.23 ERA with 22 strikeouts against only four walks. In the first start of his career last Friday during a 5-1 win over Yorktown, Colella tossed six scoreless innings. He also struck out eight, allowed one hit and walked one.
"They're our two go-to guys," said fourth-year coach Kevin Ford of Colella and Johnson. "Anytime they're ready and we have a game, they're going to be out there."
<b>WHILE LAST</b> year's 18-8 team became known for its talented trio of pitchers, the 2009 model, Ford feels, may actually be more balanced. In addition to Colella and Johnson (5-1, 3.08 ERA in '08), the Chargers return two infielders, shortstop Danny Bates and first baseman Brian King, with significant experience.
Bates hit .327 with 16 RBIs and had six stolen bases, while King belted three homers and posted a .304 average. In Friday's win over Yorktown, King, after a strikeout and a tapper back to the pitcher during his first two at-bats, made an adjustment and cranked a homer the opposite way.
"My first two at-bats weren't as nice as I would want them to be," King said. "Coach [Ford] got on me a little bit, and I finally adjusted I guess. I just tried to drive the ball the other way."
A pleasant surprise for Chantilly has been catcher Matt Dewitt, who saw some varsity time at the end of last year but was behind Keith Morrisroe, now a freshman on the baseball team at Concord University. In Chantilly's first two scrimmages and again last Friday, Dewitt homered, providing the Chargers a bit of an unknown luxury.
"A lot of us didn't get playing time because we were blocked by seniors, but I feel comfortable that all of us can perform," Colella said. "Just because we're not well known doesn't mean we can't perform up to the level we played at last year."
<b>AT WESTFIELD,</b> with the slugging Snyder twins -- Matt and Mike, who have moved on to the University of Mississippi -- last spring, the Bulldogs were able to score runs early and often. As ninth-year coach Chuck Welch put it, Westfield "played for the three-run bomb."
This season, because of a collection of team speed that Welch hasn't seen in years, Westfield will be looking to move from first to third on a single.
"This year's team identity might be a little different," said Welch, whose club was 15-8 overall, 9-3 against Concorde District opponents and lost to Lake Braddock in the Northern Region quarterfinals a year ago. "But it's just a different way of coming across the plate."
Senior right-hander Ryan Williams, a William & Mary signee, will try to prevent opposing players from crossing the plate. He went 3-0 with a 0.98 ERA on the mound last season, despite missing the second half because of a torn anterior cruciate ligament. A shortstop, he also hit .419.
<b>CENTREVILLE,</b> 4-17 a year ago, boasts perhaps the most returnees among all Northern Region teams with 17, including left-handed ace Ryan Ashooh, a University of Virginia recruit and a second team All-District pick last spring.
The Wildcats went 3-9 against district opponents during the regular season last spring but improved steadily as the year wore on -- look for a much-improved squad again off of Union Mill Road.
Junior shortstop Chris Campbell, a second team All-District pick as well, returns to anchor the infield, while Kyle Hall, one of eight returning starters, is back behind the plate again for second-year coach Morgan Spencer.