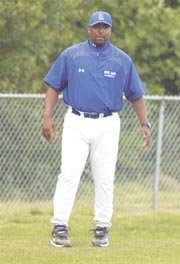 South Lakes High baseball coach Galvin Morris has a positive outlook about this spring season. And why not? The Seahawks have a solid nucleus of talented players that could make the team quite competitive in the always tough Liberty District.
"We always look at the season that you want to do better than the year before," said Morris, whose team won a modest seven games last year. "We lost some [key] guys from a year ago, but hopefully we have players who can fill their shoes."
The Seahawks are set to open the new season this week with a cross-town rival game at Herndon on Wednesday. On Friday night, South Lakes will play a game at district opponent W.T. Woodson.
One of South Lakes' top returning players this season is senior second baseman Jon Baamonde, who earned Honorable Mention All-District accolades last year.
"He's a diehard baseball guy and is working on something every day to get better," said Morris. "The kids feed off his work ethic."
Baamonde, who will likely hit in the Seahawks' No. 3 spot of the batting order, was among the Seahawks' statistical leaders at the plate last year.
Another key player for South Lakes is sophomore Will Sweet, a right-handed pitcher who will play the hot corner position at third when he is not on the mound. Morris said Sweet had to adjust to the varsity game as a freshmen last year, but was impressive in that initial season.
"I want to see him improve on last year," said Morris. "He gets people out and his ball moves a little bit. He won't overpower you or anything, but he knows when to throw a pitch at the right time. He can locate [his pitches] real well."
One player who could see time at a number of different positions is junior Kevin Ball, a right-handed pitcher who can also play both in the infield or outfield as needed.
South Lakes also has two solid sophomore outfielders in Wilfredo Corps-Ortiz and Wesley Casson, both of whom started last year as freshmen.
Bringing some experience to the line-up will be senior first baseman/designated hitter Tyler Siqueiros, a left-handed swinger.
South Lakes lost standout players Scott Reed (catcher) and Noah Sweet, Will's older brother, to graduation. So the Seahawk players who received their first varsity playing experience last year will have to take their game up another level if South Lakes is to make some noise in a talent-laden district that includes defending district champion Stone Bridge, perennial power Madison and an on-the-rise McLean.
South Lakes will be competing at the McLean/Great Falls Babe Ruth Invitational tournament in a few weeks. Both McLean and Langley are co-hosting the 12-team spring break event. Teams competing in the tournament will include Chantilly, Robinson, Oakton and Yorktown. Games will be played at both McLean and Langley.