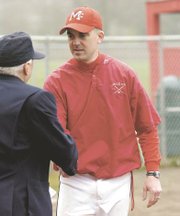 A year ago, a relatively young McLean High baseball team finished 15-8 and tied for second place in the regular season Liberty District standings. In the postseason, the Highlanders reached the district tournament semifinals before losing to eventual champion Stone Bridge, 2-0. Then, in the 16-team Northern Region playoffs, the Highlanders saw their season end with a first round loss to eventual region champion Lake Braddock, 5-2.
So McLean, under coach John Thomas, was right on the edge of being one of the region's elite teams. This year, with six returning starters back in the line-up, Thomas hopes his squad can take that next step forward.
The fourth year coach said his players have proven that they are hungry to excel.
"A big thing for us since losing to Lake Braddock last year is we had every guy in the weight room four times a week [during the offseason]," said Thomas . "We have a lot of kids back and reason to be excited. This team has worked harder than any team I've ever had."
<b>McLean will receive a big test right out of the gate when it opens up the new season at defending district champion Stone Bridge this Friday night in Ashburn. The Highlanders' next game after that is scheduled to be at home against perennial power and district rival Madison next Tuesday night.
McLean's leadership will come from its senior co-captains – Erik Payne and Brett Bleiweis.
Payne, a Second Team All-District first baseman last year, will see action at both first and catcher this season. He caught for just the first time this past autumn during McLean's fall ball season. He has impressed the McLean coaching staff with his desire to learn the position. He is currently tabbed to catch when junior pitcher Denis Buckley takes the mound.
"He's never caught," said Thomas, of Payne. "He just worked hard all winter. We told him we wanted him to do this last summer. He's a great kid and great leader and we trusted he would work on [his new position]. He's a big, strong kid with a good arm. He's a tough kid and we knew he wouldn't be afraid of the ball [behind the plate]."
A right-handed batter, Payne, as the Highlanders' No. 5 hitter in the batting order last year, led McLean in hitting with a nifty .393 average.
Bleiweis, meanwhile, is a player who has successfully worked his way up through the McLean High baseball program. He played JV ball for the Highlanders in both his freshmen and sophomore years. Last year, as a junior, he saw limited playing time before starting in McLean's final eight games of the season as an infielder. Bleiweis, who batted over .300, is making the transition to leftfield this spring.
"He's steady a nd has improved every year he's been here," said Thomas. "He's a classical [organization] kid."
<b>MCLEAN</b> has two of the region's top starting pitchers in juniors Sean Fitzgerald and Buckley, both right handers.
Fitzgerald already has accumulated 11 career varsity wins. Last year, as McLean's No. 1 pitcher, he was 6-3 with a 2.20 ERA. In 60 innings, he fanned 62 batters. He was team MVP.
"Sean has definitely proved through two years that he is a very good pitcher," said Thomas, of his ace. "He's worked very hard and his velocity is up. He's always been a kid who knows how to pitch around the plate."
Fitzgerald, who will play shortstop when he is not on the mound, is coming off a sophomore season at the plate where he hit .357 with 23 RBIs as his team's No. 3 hitter in the line-up. He was named First Team All-District as a utility player, and also was named Second Team All-Region.
Buckley, a First Team All-District pitcher last year, went 5-3 with a 2.68 ERA as a sophomore. He struck out 42 batters in 44 innings of work. When he is not on the mound Buckley catches for the Highlanders. As a clean-up hitter last year, he batted .295 and scored 19 runs.
On the mound, Buckley is pretty much lights out when he gets ahead in the count.
"Denis is a power pitcher and has a good breaking ball," said Thomas. "When he gets ahead in the count, he's up there with anybody."
Two other key players for McLean this season will be junior outfielder Riley Beiro and senior shortstop/second baseman Chris Russo.
Beiro earned First Team All-District and Second Team All-Region accolades last year as a center fielder. A leadoff hitter, Beiro batted .340 last spring. He utilized his outstanding speed with 25 stolen bases and 24 runs scored. His on-base percentage was .536. On 12 occasions, he reached first base after being hit by a pitch.
"He really understands how to hit in the leadoff spot," said Thomas. "He's our best pure power hitter and very patient at the plate. He knows how to get on base."
In the outfield, Beiro might be the best centerfielder in the region.
"He plays that position about as good as a player can play it," said Thomas. "He's got a very good arm, covers a lot of ground and gets a jump a jump [off the batted ball] extremely well."
Russo, a middle infielder, had an on-base percentage of .489 with 14 RBI and two home runs from the No. 2 spot in the line-up last year. He coaxed 21 walks and stole 10 bases.
McLean is in a tough district, but should be in the running for the regular season title.
Both McLean and Langley are co-hosting the first McLean/Great Falls Babe Ruth Invitational tournament over spring break in a few weeks. Twelve teams will compete in the tournament, including Chantilly, Robinson, Oakton, Yorktown and South Lakes. Games will be played at both McLean and Langley.