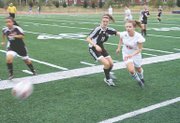 As his team strolled off the field following its season-opening 2-0 shutout win over Mount Vernon last Wednesday, Titans coach Williams Heresniak got another stark reminder of just how young his talented squad is this year.
"Remember ladies, after a win we shake our goalie's hand," he said as several players sheepishly went over to congratulate their starting keeper.
Coming off a season in which T.C. Williams won just three games, it seems Heresniak and his small, but vocal group of four seniors have been teaching a crew of seven underclassmen something new every day. That's not such a bad thing for a team that has started the season with two consecutive-victories following another shutout victory over Stuart Friday.
"I think it's different because when it's a younger team, they're just going out there and playing hard," said senior midfielder Danielle Thorne. "When you get older, you think more and get scared, so I think having a young team is to our advantage right now."
Thorne will be joined in the midfield by fellow senior captain Kamila Benzina, a duo that Heresniak hopes can control the pace of play. Senior Amy Greco will anchor the defense. Other than that, it's just a mixed bag of youth and inexperience, although Heresniak thinks much of his firepower offensively will come from junior Keely Porterfield and freshman Hannah Clark.
Benzina and junior Molly McNabb contributed the Titans' two goals against Mount Vernon last week.
It also helps that T.C. Williams has the benefit of playing true home games this season with the renovation of Parker Gray Stadium complete. Since the school has been under construction the past few years, last Wednesday was the first time many on the Titans had even played a soccer game on their home field.
It seems whether between the lines or outside them, this will be a season of firsts for everyone involved with the Titan girls' soccer program.
"I think it's a different team now, a lot has changed," said Thorne. "We're gonna surprise a lot of people this year."
<b>FOR THE T.C. WILLIAMS BOYS'</b> soccer team, the beginning of a new season hasn't brought about as smooth of a transition. A year after winning both the regular season and tournament titles in the Patriot District with a sterling 14-2-2 record, the Titans have stumbled out of the gates losing two of their first three with just three starters returning from last season.
Following a heartbreaking 5-4 loss to Mount Vernon — a game T.C. Williams led 3-1 at the half — the team rebounded against Stuart, winning, 1-0. On Monday night, T.C. Williams lost to South Lakes, 2-1.
But the return of last year's Patriot League Player of the Year and first team All-Region selection Bryan Frank means the losing skid shouldn't last too long. Frank (18 goals last year) heads an offense that will also benefit from dangerous midfielder Kevin Perreira's speed up front.
One thing plaguing the Titans in the early going has been consistency. Against Mount Vernon last Wednesday, the offense was clicking on all cylinders thanks to goals from Frank, Perreira, and junior Alhaji Hassann.
In the past two games, quality chances have been aplenty. The Titans just haven't been able to get on the scoreboard as much as they'd like, something coach Martin Nickley hopes will change heading into a Wednesday match-up with Wakefield, after the Gazette Packet's deadline.
"We've got a good group, and they will certainly be doing better as the season goes along," Nickley said. "I'm not too worried, it's still early. We are looking forward to Wednesday … in order to put a complete match together.