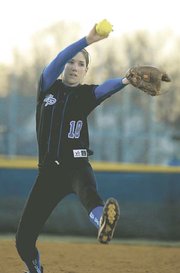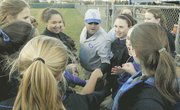 Ask first-year West Potomac softball coach Rick Anderson anything softball-related and chances are it all goes back to the five points. They are the "foundation of my coaching philosophy," he said.
Even when the topic of just how much this year's group of Wolverine seniors has been through during their careers, a subject the new coach seemingly couldn't answer with clichéd coaching jargon, the coach still sticks by those five points.
What are the five points? They are "bring it" as in bring effort to the field every day, "Core and Balance" meaning stabilization techniques for hitting and fielding, "Communicate know why" which entails keeping lines of communication open and explaining what one wants and why, "Everyday" as in focusing on softball seven days a week, and "Love and Heart" which gets back to the effort and courage Anderson wants out of his team.
It's an unusual way of characterizing goals, but then again, this isn't a normal team. Most of West Potomac's five senior members were on the team two years ago when then-senior teammate Renee Shelkin died in a car accident just days before graduation.
Those who weren't on the team then get a constant reminder when they turn to their right in the Wolverine home dugout, where it simply reads "Renegade No. 5" in honor of Shelkin's nickname and now-retired softball jersey. Players who were part of last season's 16-8 campaign dedicated their success to their fallen teammate.
The team got more bad news with the death of longtime volunteer assistant Bill Ambrose this past fall after a lengthy battle with cancer. Add in the fact that Anderson is now the third coach in three seasons for the Wolverines and it's clear this isn't just a simple case of overcoming adversity.
"I did some research before coming, but this is the program I bring and so we beat [the five points] everyday, we say these things," said Anderson, who has never been coach of a high school program but has been working on the travel softball circuit for some time now. "That's what we control."
<b>THAT MAY BE</b> just what is needed for a team that has daily reminders of what happened in the past. Focusing on the present can take the attention off some of the prior pain. And sporting a 2-2 record thus far, which includes three games with 10 or more runs scored and narrow losses to Northern Region powerhouses Robinson (11-10) and South County (9-3), it appears as if this year's West Potomac squad is buying in.
"There's definitely a new program being brought," said senior leadoff hitter Sam Bower. "I think it's a stronger program and it looks really good for the future once we get things sorted out a little bit better."
But it's the present that looks equally bright. With a strong mix of young and old, the Wolverines appear poised to advance past the first round of the regional tournament, a feat nobody on this squad has ever accomplished. Leading them there will be seniors Jessica Harrington (first base), Kelly Wood (first base), and Bower (shortstop).
Perhaps the most talented members of this year's squad, though, are its three freshmen. Pitchers Sammy Clifford and Morgan Maniglia combined to give up just one run in West Potomac's recent wins over Wakefield and West Springfield. Meanwhile, freshman third baseman and clean-up hitter Jasmine Picini has been racking up RBIs at a rapid pace.
"Typically I don't like putting freshmen on the team, but they've got game," said Anderson.
As for that goal of getting to regionals, that's not something the new coach is focused on just yet. He'll continue to harp on his five points, hoping they provide the stability this team has needed for quite some time now.
"I've always wanted to take [the five points] to a mature group, a high school group and say, 'OK, let's go out and develop a program,'" said Anderson. "Everything is based on that core philosophy and from there we can always come back and work on the little things."