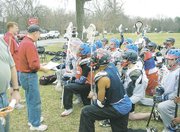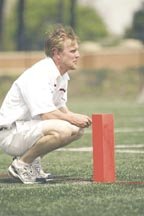 It was just a preseason practice leading into the T.C. Williams boys' lacrosse team's season opener against Centreville two weeks ago, but when Titan coach Charles Juris pulled freshman Cody Richards aside for a 30-second chat, he essentially got to the crux of what this year's team must overcome.
"You better stop thinking like a freshman," said Juri to his young player, a message he could have probably delivered to most of the team at that point.
"We've got a very young team, the majority being freshmen and sophomores," Juris later said. "It's very encouraging for the future, but it makes for some growing pains."
Two weeks into the regular season, Juris looks like a prophet as his Titans are off to a 1-2 start that has been all about the extremes. In its first two games, the opposition outscored T.C. Williams by a combined 30-1 tally, but the Titans rebounded to bludgeon Wakefield, 11-1, last Thursday. T.C. Williams faces Lake Braddock Wednesday, after the Gazette Packet's deadline.
According to Juris, athletes aren't the problem. In fact, the coach thinks this might be the most athletic team he has had in his eight seasons at the school. The issue is developing that talent to perform lacrosse-specific skills, a sticky situation since the best players in the area generally start playing on club teams by middle school.
That's why Juris has taken over the task of building from the bottom. Last season, he launched the school's first-ever freshmen program and this year he's helping launch a U-13 team within the Alexandria Lacrosse Club.
"For five years, when we were good, we had a lot of kids who weren't good athletes, but they worked real hard," he said. "Now we're getting amazing athletes, just phenomenal athletes."
And if any can turn into success stories like that of senior defenseman James Collier, Juris's vision will be complete sooner than he thinks. A standout on the football team, Collier picked up a lacrosse stick for the first time last year when he came out for the squad.
Now Collier is "probably our best player overall," according to Juris. Collier covers the opposing team's best player every game, and was the No. 1 vote getter when T.C. Williams voted for captains this season.
"I think that gives you a sense of where this program is," said Juris.
<b>OVER AT ST. STEPHEN'S/ST. AGNES</b>, coach Andy Taibl is focused on replicating his team's impressive run to the IAC finals a year ago after finishing the season with wins in seven of its last nine games, including a conference semifinal victory over perennial power Georgetown Prep.
The Saints bring back a strong group of offensive weapons with plenty of big game experience led by senior attack Alex Clay and senior midfielder and captain Jack Sieke.
And after beginning last season 1-10, Taibl has focused on getting his team, and especially an inexperienced defensive corps, meshing without digging themselves into a hole. Through four games his message has gotten through as the Saints are off to a 3-1 start with wins over St. Anne's Belfield and Notre Dame Academy this past weekend.
Upcoming games against Boy's Latin of Baltimore and last year's IAC champion Landon will be a good indication of just how far SSSAS can go this season.
"They've got a good idea of what it takes to be successful," said Taibl. "Early in the season, it's not all gonna get perfect, so you just try to do what you do well and improve on your weaknesses.
<b>EPISCOPAL</b> has suffered the same fate as its neighbor T.C. Williams in recent years with plenty of athletes, but not enough lacrosse players. But this season, coach Scott Conklin thinks he's got more skill than he has had in quite some time after an 8-12 campaign a year ago.
The only problem is many of those skilled players are underclassmen, meaning there could be some of those dreaded growing pains, something a powerful conference like the IAC doesn't treat with the utmost of kindness.
Conklin is counting on leading returning scorer Hunter de Butts (18 goals, 35 assists), goalie David Block (committed to Haverford for next season), and defenseman Brandt Gess to help the Maroon early.
The team is off to a 4-2 start after an overtime loss to Notre Dame Academy Tuesday night.
"I think it's important for us to get off to a good start," said Conklin. "We need to win the games we should win, and we haven't done that the past few years."
<b>THE GOAL AT BISHOP IRETON</b> is to avoid that tag of being middle of the pack in the WCAC once again. Coach Joe Kesterman will count on the leadership of seniors Mac Fife (four-year starter committed to play lacrosse at the Air Force Academy) and Taylor O'Sullivan (1st team All-WCAC) to avoid another season in the doldrums like last year's 7-13 campaign.
The team has just two returning defensemen, but Kesterman said that unit has been stronger than expected as the Cardinals have jumped out to a 2-2 start to the season. Aside from an 11-6 loss to Potomac School in its season opener, Ireton hasn't allowed double-digit goals all season.
The Cardinals take on Good Counsel Wednesday, after the Gazette Packet's deadline.