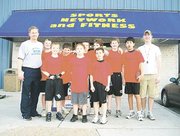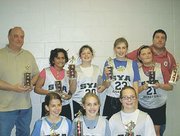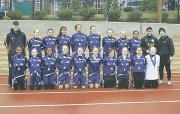 <b>Firecats on Fire</b>
The Chantilly Youth Association Firecats, a 14-U girls' soccer team, won the Arlington Invitational Tournament on Sunday, March 15. The Firecats' first game was against an all-star squad made up from the top two teams in western New York. It was a well-played match and Chantilly prevailed, 2-1. The final was against McLean on Sunday afternoon and Chantilly won, 4-3. The Firecats are sponsored by orthodontist Dr. Michael Ellis, Glory Days Grill of Centreville and local Wal-Mart stores. For sponsorship information, call Rich Gleason at 703-378-7667.
<b>Electrics Seek Players</b>
The Chantilly Electrics, a 17-U WAGS Division 1 girls' soccer team, are looking for a goalkeeper and a few impact field players to join their team. The Electrics are coached by Mark Corey, who has over 16 years of head coaching experience. If interested, contact Mark Corey at 703-819-1052 or via email at mcorey@cox.net.
<b>Golf Tournament Fundraiser</b>
Help Western Fairfax Christian Ministries (WFCM) raise money to fight homelessness in the community by joining the group for a day of golf on Monday, April 27 at Chantilly National Golf and Country Club. Cost is $175 per player, which includes lunch, range balls, 18 holes of golf, cart fees, dinner and prizes. Registration and lunch begin at 11 a.m., followed by a shotgun start at 1. The buffet-style dinner begins at 6 p.m. and will be followed by an awards ceremony. For more information or to register, visit www.wfcmva.org and send checks (payable to Western Fairfax Christian Ministries) to WFCM Golf Tournament, P.O. Box 222752, Chantilly, VA 20153-2752.
<b>It's Monte's Month</b>
Chantilly High School graduate Joe Monte, now a sophomore on the Georgia Southern men's golf team, was named the Southern Conference's Athlete of the Month for February. Monte led the Eagles with six rounds that averaged 72.83 strokes in two tournaments. He finished tied for 50th at the Gator Invitational on Feb. 14-15, shooting a three-round score of 218 (72-74-72). On Feb. 22-24, Monte was sixth in the John Hayt Invitational with a three-over-par 219. In the final round, Monte shot a season-best two-under-par 70, offsetting marks of 76 and 73 in the first and sound rounds, respectively. At Chantilly, Monte won the 2005 Virginia AAA state title, and his team captured both the Concorde District and Northern Region titles.