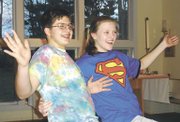 St. Francis Episcopal Church in Great Falls will present two performances of "Godspell Junior," an adaptation of the Broadway musical, "Godspell," on Sunday, March 29, at 3 p.m. and Tuesday, March 31, at 7:15 p.m. The performances, which feature children ages 7 to 14, are free and open to the public.
The St. Francis production of "Godspell Junior" is being directed by Melissa Coombs, with Kelly Smith-Moore as the music director. Producers are Jennifer Murphy and Chilo Obolensky. Virginia Lee, a junior at Langley High School, is the choreographer for the production. Children from both St. Francis Episcopal Church and Great Falls United Methodist Church are featured in the performances.
Conceived and originally directed by John Michael Tebelak, with music and new lyrics by Stephen Schwartz, "Godspell Junior" is based on the Gospel of St. Mathew. The musical brings the parables of Jesus to life through various theatrical traditions, including pantomime, charades, acrobatics and vaudeville.
The Sunday performance will be followed by a reception in the church's parish hall. The Tuesday night performance will be preceded by a potluck supper beginning at 6:30 p.m.
For more information, visit www.stfrancisgreatfalls.org or call the church at 703-759-2082.