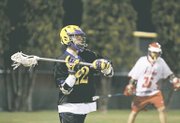 Facing the net head on, Alex Caldwell, like many, feels most at ease. The Lake Braddock senior was a second team All-Northern Region middie last spring for the boys' lacrosse team, scoring goals often by dodging one defender and then charging, with a full head of steam, toward the cage.
Where Caldwell is not as comfortable is behind the net, a place where he has been shifted to this season. Though as a junior he emerged as one of the area's top goal-scoring threats when the Bruins' went 11-5, Caldwell, because of the graduation of 17 seniors, has been asked to play as an attackman.
The move plants Caldwell behind the opposing team's goal. He eventually makes his move to the right or left, keeping his back to the goal and then either passes to a teammate or spins to fire a shot on net.
On Friday, March 20, for the Bruins' Patriot District opener against Annandale, Caldwell found himself behind the Atoms' goal with three minutes left in the third period. He looked left. Then he moved right. Instead of turning to shoot, Caldwell, appearing very much at ease, fired a pass to a teammate stationed to the right of the cage.
The goal pulled Lake Braddock within three, but Annandale escaped with an 11-7 win. Moreover, the play was a quick snapshot of Caldwell's growing comfortability up front, something the Bruins will surely benefit from this spring.
"It's a little bit more difficult than it was last year," Caldwell said, "but I kind of like it a little bit."
<b>THE CHANGE,</b> which still has Caldwell marked by the opposing team's long pole defender, was initiated by head coach Steve Price, who's in his 34th year of work at Lake Braddock. Price also wasn't shy about stating his expectations.
"Alex has got to be the leader on the field offensively," Price said. "He's got to control the ball."
A second pivotal player figures to be Ryan Luria, a junior attackman who tweaked his knee against Annandale, though the injury doesn't appear to have any lingering effects. Kyle Merrell, a second team All-District selection last spring, returns to shore up the Bruins' defense.
Another key for Lake Braddock this season will be replacing second team All-Region goalkeeper Will Peabody, who's now at the U.S. Naval Academy. Junior Wyce Asmati filled that role against Annandale, with Price praising the performance that his goalkeeper turned in.
But the most significant change for Lake Braddock this season revolves around Caldwell, whose brother, Anderson Caldwell, was an honorable mention All-Region attackman last season but was also one of the 17 seniors who graduated.
The two housemates shared a strong chemistry on the field last spring. This year, Alex Caldwell finds himself trying to play both roles. And trying to lead his team back to the region tournament.
"It's different this year," Alex Caldwell said, "knowing that he's not down there to catch the ball when I need him to."
<b>AT WEST SPRINGFIELD,</b> the both the boys' and girls' lacrosse teams appear more than capable of unseating the Atoms, who swept the Patriot District last season.
Junior Eric Schauder, with 14 goals and 19 assists last year, heads a list of talented returners for the boys' team, which was 7-6 overall, 5-2 against district opponents and lost to Annandale in the district semis. Hunter Bragg (22 goals) Corey MacRae (17 goals) are also back.
On the girls' side, the Spartans were 10-6 overall last spring, 7-2 against Patriot District opponents. Both losses were to Annandale, the second of which came in the district title game.
All-Region performer Rachel Tomlinson, who netted 53 goals and 13 assists last spring, will bolster West Springfield's offense. Junior Chelsea Capets returns after scoring 40 goals and picking up 36 ground balls last season.