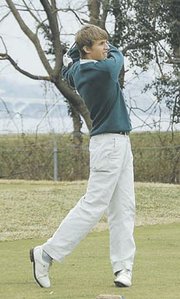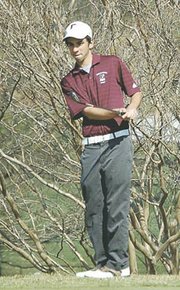 Despite iffy early spring weather, golf season is in full swing at local private high schools. Arlington's Bishop O'Connell and three Alexandria schools — Episcopal, St. Stephen's and St. Agnes, and Bishop Ireton — held tryouts in early March and immediately began dual match play. O'Connell and Ireton play in the Washington Catholic Athletic Conference, while Episcopal and SS&SA belong to the Interstate Athletic Conference.
Conference coaches expect either Fairfax's Paul VI or DeMatha to win the WCAC and Georgetown Prep to take the IAC crown. Match play records for each team are as of March 24.
<b>Bishop Ireton</b>: Although junior Steve Porter will play number one most often, first year coach Pete Davey will count on two seniors to pace his team — John Attiliis and Andrew Hirsch. Ireton failed to advance to the WCAC second round in 2008, but Davey hopes for a better finish this year. "We are aiming to be in the upper half of the league, and expect a good showing." The Cardinals are 0-2 in dual matches so far this season.
<b>Episcopal</b>: Golfers attending this small boarding school lack the chance to practice at their home clubs before the season. Coach Whit Morgan tries to schedule early season practice to compensate, but variable March weather complicates his task. Morgan expects junior Adam Stowe to play number one, with sophomore Bailey Patrick competing for the second spot. Senior Hill DuBose will add depth. "We have been stuck in third place in the IAC for the past two years," Morgan said. "But it will be difficult to unseat either Prep or Landon." Episcopal has played only one match, losing to powerful Paul VI, 0-9.
<b>St. Stephen's/St. Agnes</b>: "We'll compete," coach Jerry Howell promises. "Senior Joe Curley and junior Holt Mountcastle are my two best players, and sophomore David Budway will help." SSSAS finished fifth in the IAC last year, and Curley tied for 11th in the tournament's individual competition. SSSAS lost its only match so far, a squeaker to Good Counsel at Belle Haven.
<b>Bishop O'Connell</b>: Four of the team's top six players are returning from last year's squad. Seniors Chris Ceconi, John Malanchuk, and Nick Guerere will lead the team. Malanchuk tied for fifth in the 2008 WCAC individual competition. Ceconi posted five top 10 finishes over the winter on the Plantations Junior Golf Tour and should hit the fairways running. So far this year, the Knights have lost to three of the area's perennial powerhouses — Landon, Gonzaga, and DeMatha, but scored their first win over Ireton on March 24.
All four schools have posted their golf schedules on their Web sites. Click on Athletics and select the golf team page. The first round of the WCAC tournament starts April 28 at Springfield Golf and Country Club, with round two the following week on May 5. The IAC will hold its one-day championship on April 28 at Shenandoah Valley Golf Club in Front Royal.