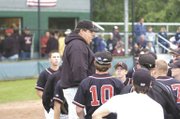 Expectations are always high for the Madison High baseball team. Under 14th year head coach Mark Gjormand, the Warhawks have known enormous success, capturing the state AAA title in 2002, winning two Northern Region crowns ('02 and '03) and earning nine Liberty District championships.
Last year's Madison team, in a relative sense, struggled, going 13-9. The Warhawks did reach the finals of the district tournament before losing to Stone Bridge. The team's season ended for good with a first round loss to South County at the 16-team region tournament.
Gjormand said his 2008 Warhawks were hurt badly by injuries and other team trials that contributed to a tougher season than which Madison fans have grown accustomed. Even so, the bar has been set high for Madison during Gjormand's tenure and a first round loss at regionals made for a frustrating end.
"For us, expectations are always the same," said Gjormand, meaning the Warhawks annually believe they can be in the running for a region championship. "Nobody expects more from us than we do."
Look for this spring's Madison team to get better and better as the season moves on and to ultimately put together a good postseason run. The Warhawks entered this season as the No. 6 ranked team by the region coaches. Although Madison is less experienced than last year's team after losing seven starters to graduation, it has talent. On top of that, Gjormand loves the seven seniors who are leading this year's charge.
"This is a great group of kids," said Gjormand, of the 12th graders on his squad. "We have seven incredible seniors who are not just great ball players but great kids — great character kids. We couldn't have a better [senior] group to lead our younger players. Every day, they will show up and will play their tails off. They are great academically and great in the [Vienna] community."
<b>MADISON OPENED</b> the new season with an impressive 7-0 home win over Liberty District and cross-town rival Marshall Friday night, March 20. The home team received a terrific outing from senior starting pitcher Gavin Hilburn, who allowed three hits while striking out two and walking one over five innings of work to earn the decision.
"He was real effective and pounded the [strike] zone," said Gjormand, of Hilburn's 54-pitch outing. "We played great defense."
Madison reliever Andrew Bayer, a junior, tossed two scoreless innings to complete the Madison shutout.
Offensively, a number of Warhawks made solid contributions, including senior Chris Powers (pinch-hit two-run single), sophomore and No. 5 hitter Ryan McGuire (two hits, including a double), junior third baseman Scott Bernier (double), senior shortstop and leadoff batter Cam Cassady (two hits), senior leftfielder Will Clarkson, who made perhaps the top defensive play of the night with a diving catch in the early innings and freshmen second baseman Nate Favero, who reached base twice.
Madison senior catcher Alex Jacquez, the team's No. 3 hitter and a Second Team All-Region selection behind the plate last year, threw out a base runner and worked a typically strong game as the battery mate to Hilburn and Bayer. Jacquez and fellow senior Ricardo Perez, the team's clean-up hitter who recently signed a scholarship to play at Lehigh University, Pa., will give Madison plenty of offensive jolt at the heart of the line-up this season.
Gjormand was pleased with his team's opening game.
"Friday night, we were very good in the opener," he said. "We beat a good Marshall team."
Gjormand said his team's defense will likely be the team's on-field strength. Cassady, the senior class president, makes both routine and exceptional plays. He is terrific in making plays from the hole.
"He made some nice defensive plays [against Marshall]," said Gjormand, of Cassady. "He's fun to watch and he's the leader of the infield."
Jacquez, the team's starting backstop, will keep opponents in check on the base paths.
"He has a cannon and can shut down the running game," said Gjormand.
The coach believes his team will be successful this spring. He said his players worked hard during the offseason to improve their conditioning and game skills. But it might take a while for things to totally come together.
"I think we're going to be pretty good later on [in the season]," said Gjormand. "It's not like the talent isn't there, but it's inexperienced. They've got great energy and they're smart."
Madison was set for a busy schedule this week, starting with a Tuesday, March 24 game at district opponent McLean, which opened the season with a win at defending district champion Stone Bridge last Friday night.
On Friday, March 27, Madison will host district rival W.T. Woodson for a 6:30 p.m. game. On Saturday at 1 p.m., the Warhawks will play a non-district game at cross-town rival Oakton.
Madison will spend spring break week (April 6-10) in Charleston, S.C. where it will participate in the annual Hitt Tournament. The Warhawks are two-time champions of the tournament (2004 and '06).