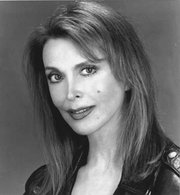 It's been decades since Tina Louise left America's most famous island and living rooms, but she has never dropped out of the public eye.
These days, Louise's adoring fans are a little younger, and know her better as an author than the copper-haired vixen from "Gilligan's Island."
"I signed 300 books today at a school in New Jersey," said Louise, with a sigh, from her New York City home. "I've been doing this for 12 years now and I just love it."
Louise is the author of "When I Grow Up," a children's book that compares what animals do with various professions. She will be signing copies of her book at the Lorton Arts Foundation Workhouse on Ox Road on Saturday, April 4, and she hopes the audience is full of young, smiling faces.
Her inspiration for the book, and her involvement in the New York City literacy program, Learning Leaders, came from the low literacy levels that were front-page news when Louise moved to the city in the 1990s. She felt compelled to get involved, but she wasn't sure what she could do or where to start.
At a United Nations dinner one night, she began talking with a woman who had been involved with N.Y. School Volunteers, a group that worked to improve literacy in city schools. That program morphed into Learning Leaders, a volunteer literacy tutor organization, and with that, Louise became an advocate for children, especially in the areas of literacy and physical education.
"The first time I walked into a public school, I felt very happy," she said. "It's a very beautiful experience to be in front of children and work with them."
<b>
MANY CHILDREN </b>didn't know what they wanted to be when they grew up and they didn't really know what options they had, Louise explained. That's how she got the idea for the book, by taking children's love of animals and their imaginations and putting the two together to show children they could be anything they dreamed.
Eventually, when she was on tour promoting "When I Grow Up," she started asking children what kind of careers they might want to pursue. She would ask who wanted to be an architect, and count the number of hands that went up.
During last week's visit to New Jersey, she finished her talk by asking the children how many wanted to be president.
"I walked around the gym and had some teachers helping me to count because I wanted to make sure we got every single little hand," Louise said. "There were over 150 hands raised. It was just wonderful."
Speaking of the presidency, Louise said she was able to give a signed copy of her book to the Obama family back when Barack Obama was still a senator. She has a framed letter from the new president thanking her for the gift to his young daughters.
During her short stay in Northern Virginia, Louise said she hopes to be able to stop by Capitol Hill to urge legislators to work on restoring physical education for all children during the school day. From talking with students, she's distressed at the lack of physical education classes and the rising rates of obesity among the youngest citizens.
"I'm a workout fanatic," Louise said. "I think that's one of the biggest problems in public schools today. I believe schools should have physical education from first grade up. I also think schools should send information home to parents to let them know what children are being fed and I think kids should have a better idea what they're eating."
Working for literacy and physical health are the "most important things" in Louise's life these days, she said, and she wouldn't trade them for anything.
Louise is currently working on her second children's book, but declined to give away details about the project because she's looking for a publisher. She would say that the book may explore what children and grown ups alike can do about the environment. This would actually be her third book. The first was a memoir, "Sunday," which chronicles what Louise calls an "unusual" childhood.
It took a while for her to find a publisher for her first book, which she relates to children by saying sometimes they're going to have difficulty in reaching some of their goals. But if they keep trying, she said, anything is possible.
"Things take time," she said. "The first publisher I talked to wouldn't publish the book, but I worked hard until I found someone who would publish it the way I wanted it done. It paid off."
<b>
WHEN LOUISE </b>comes to Lorton, she is hoping to see quite a few children in the audience and is eager to ask them about their dreams for the future.
"I just think they're all so beautiful," she said. "They all look like Renoir paintings to me, just beautiful."
Louise is at least the second high-profile celebrity to visit the Workhouse, the first since the establishment's grand opening last fall. Through a long-time friendship with one of the Arts Foundation's staff members, she accepted an invitation to visit and read excerpts from her book.
Sharon Mason, executive director at the Lorton Arts Foundation, said she is thrilled to have Louise, who she called an "icon" in American entertainment, reading at the Workhouse.
"We thought this would enable us to cast a wider net to schools and other literacy programs that have been started by Caren Hearne, our education program specialist," Mason said. "Including local children in this event was a major draw for us."
The Arts Foundation has partnerships with Lorton Station, Gunston and Featherstone elementary schools and Woodbridge High School that have been notified about the event, and Mason is hoping for at least 35 students that evening.
Excitement is starting to build for the reading, Mason said, with TV and radio interviews already lined up. Not bad for the Workhouse, in its sixth month, and a sure sign of things to come, she hopes.
"Given all the years Tina has been in show business, we are certain this should be a wonderful night," she said. "We're excited about the Q&A session. … She's been a performer on the Broadway stage, dramatic actress and of course the famous Ginger from 'Gilligan's Island.' We're delighted she can share her years with her fans at LAF."
Julie Curtis, marketing and communications specialist at the Arts Foundation, said Louise's visit is just the start of a long line of special visitors and new events at the Workhouse.
"We're starting to do more with our Film Institute and we'll have an event with Tippi Hendren coming up in May, so there's a lot going on," Curtis said.
Since its official opening last fall, the Workhouse has already expanded its reach into the community, bringing in visual and performing arts as well as history buffs for a series of exhibits on the women's suffrage movement and Lorton's past, she said.
"We have a lot to offer, especially with the series of classes we offer to the community," Curtis said. "We just keep building on the ideas that keep flowing from our staff and volunteers."