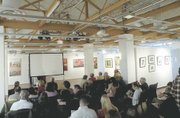 For years, Lorton resident Carol Mather woke up in the middle of the night to the screech of prison sirens alerting the neighborhood of an escape attempt at nearby Lorton Prison.
"We had a telephone number we would call and everything, to let us know what the situation was," said Mather, laughing at the memory of those nights. Now she calls it a dream come true to see the prison fortifications torn down, and a vibrant arts center put up in its place.
"I was excited beyond words," said Mather of hearing about the plans for the site's transformation into the Workhouse Arts Center, a project of the Lorton Art Foundation. She was one of the first people who volunteered her time when the center opened.
The brick buildings and watchtowers are still there, but gone are the fences and concertina wire. The Workhouse Center has been officially open for six months and has already developed facilities for a variety of art forms. The Film Institute is the latest of such efforts. They will screen films once a month, and will also host film festivals and competitions.
Joseph Wallen, director of Performing Arts at the Center, expressed his hope that Saturday night, March 21, would launch a program rich in the art of film. The Workhouse will be offering classes in all aspects of film and production, and will include an outreach program to local artists. Whenever possible he hoped to bring in VIPs and experts from the film industry to talk about their projects.
The film screened last Saturday was "Iron Jawed Angels" which documents the imprisonment of women suffragists at Lorton Workhouse in 1917. Neal McBride, of South Springfield, spoke before the screening about plans to build a National Women's Suffrage museum nearby. He is a member of the Lorton Arts Foundation Heritage Committee and also discussed plans to build the Turning Point Memorial specifically to honor the events that took place at the prison, which led to women's right to vote.
More than 1,000 students have already signed up for a full catalog of classes, and the center hosts over 150 artists in residence. The class offerings cover a full range of visual and performing arts and are constantly expanding. They include digital media classes, yoga, tap dance, film lab and oil painting, just to name a few.
The Workhouse Arts Center is a complex of 30 historic brick buildings on 55 acres, and its transformation is still not complete. Phase I, which was dedicated to the studios for the visual arts, is finished. Phase II for the performing arts is now underway. When completed, the two-story brick building across from the main gallery will house a 300-seat black box theater for hosting a wide range of performing arts.
When asked about his hopes for the future of the center, Wallen said, "Ideally, I would want the Workhouse Film Institute to become a regional magnet for the arts – film being one aspect of that. Having one of our festivals nationally recognized would be a dream."