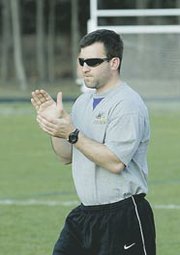 One of the most valuable assets of sports is the comeback, an ability to turn what was once a negative situation into a positive outcome. For athletes who find themselves dealing with circumstances away from the court or field, sports can offer a platform for that sort of redemption, too.
Think about Santonio Holmes' game-winning touchdown catch in Super Bowl XLIII, which occurred months after he was charged for possession of marijuana. Would the tip-toed grab have graced a Sports Illustrated cover if Pittsburgh hadn't squandered a 13-point lead, allowing Arizona to pull ahead, 23-20?
Would Dmitri Young's 2007 Comeback Player of the Year season (.320 average, 13 home runs, 74 RBIs) have commanded such attention if the Washington Nationals' first baseman hadn't been on probation for domestic violence and nearly out of baseball the summer prior to his selection to the All-Star Game?
So while Lake Braddock girls' soccer coach Adam Soos doesn't dispute the fact that poor decisions were made when members of his team gathered at a party midway through March and some consumed alcohol, violating a Fairfax County participation policy in the process, he's not ready to tar and feather his players.
"That's always the case with any adverse situation in life, not just the one that we're talking about here," Soos said. "Negative things are going to happen. People are going to make bad decisions. But the question is, 'Do you let that one bad decision speak for you, or do you let how you react to that bad situation do the talking for you?'
"It will speak a great deal about the character of the girls in this program if we're able to keep things cohesive and keep our focus on what we set out to accomplish."
<b>SINCE THE INCIDENT</b> was made public late last week, Soos said the team has practiced with TV news station helicopters overhead and tried its best to focus on soccer. While all 16 of the guilty players will serve some sort of suspension, "a few" will return for the Bruins' Patriot District contest at West Springfield Tuesday night, with the rest scheduled to be back for a game against Annandale on April 16.
The situation has made Lake Braddock's already-young roster -- prior to the suspensions, the Bruins had as many freshmen and sophomores (11) as junior and seniors -- a little bit younger, with Soos calling up players from the junior varsity squad so the team didn't have to forfeit any games.
For some, the suspensions have offered an opportunity to shine. Rachel Nichols, a junior, was not one of those suspended and was not one of those slated to be counted upon for a whole lot this season. Rehabbing a broken bone in her foot from last spring, it was enough of an accomplishment that Nichols was healthy enough to play.
But with many of her teammates forced to miss anywhere from four and six games, Nichols' workload has increased, her responsibility as a leader doubled.
"We have some young players who are very integral to what we do when we step on the field," said Soos, whose team is 1-4 this season, 0-1 against district opponents. "Rachel's been very important for us during the stretch, providing some leadership and providing a good example for a lot of the young players who have come up."
The situation, according to director of student activities Mark Martino, should also be viewed as a learning experience.
"Kids make mistakes," Martino said. "If we don't try to use this as a teachable moment, not only for those team members but hopefully for others, then, really, we're not doing our job."
In his second year at Lake Braddock after taking over for former coach Liz Pike, who helped the Bruins win Virginia AAA state titles in 2006 and 2007, Soos coaches alongside his brother, Joe Soos, who's in charge of the boys' program at the school. The boys' team graduated 13 seniors from a season ago but still figures to contend for a Patriot District title this year.
"Any challenge that has come across the table has been handled appropriately," Joe Soos said. "This has been a difficult situation for everybody, but we feel like it's our school and it's part of the soccer program at Lake Braddock."