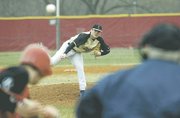 If there was any doubt that the Bishop Ireton baseball team means business in the WCAC this season, its performances this past week should all but quiet any remaining skeptics. The Cardinals extended their early-season winning streak to seven with conference wins over Paul VI and St. John's last week. Both games were decided by one run.
That Ireton came out on top in both games is a testament to its pitching staff. Led by seniors Dan Nicoll and John Robertson, the Cardinals are giving up just more than three runs per game thus far.
The Cardinals stumbled a bit Tuesday, losing their first game of the year to Gonzaga to fall to 7-1. But with upcoming games against O'Connell and DeMatha after the Gazette Packet's deadline, Ireton has a chance to give itself a little distance in the hotly contested WCAC standings.
<b>T.C. Lacrosse on a Roll</b>
In the past week, the T.C. Williams girls' lacrosse team began delivering on its promise to shock some of the region's best this season. The Titans scored a 14-8 win over perennial power Lake Braddock last Wednesday night and followed that up Monday with a 15-6 victory over Washington-Lee. The strong performances leave T.C. Williams with a 5-1 record heading into a match-up with Alexandria private school rival Bishop Ireton.
The win over Lake Braddock was the Titans first-ever victory over the Bruins in program history. After trading goals for much of the game, the Titans went on a 6-0 surge midway through the second half to take a commanding 14-7 lead and never looked back. Leading the charge were seniors Linzi Burstein (four goals), Megan Miller (three goals, one assist), and Katie Mulberger (three goals), but six different Titan players registered a goal in the game.
T.C. Williams followed that up Monday night; the Titans stormed to a 10-3 halftime lead behind four first-half goals by Burstein. Miller, Mulberger, senior Allie Clark, and junior Anna Kopecka also chipped in goals. Freshman goalie Jordan Cirenza was also impressive in net.
<b>Jenkins, King in All-Star Game</b>
The list of alumni who have participated in the Capital Classic, now in its 35th year as an area high school basketball all-star showcase, could act as a list of NBA all-time greats. Current superstars like LeBron James, Dwight Howard, Chris Paul, and Jason Kidd join past legends like Magic Johnson, Michael Jordan, Patrick Ewing, and Dominque Wilkins as current and future Hall-of-Famers who have all participated in the event.
On April 9, T.C. Williams senior Edward Jenkins will be able to include his name on that list. Jenkins was chosen to play on the suburban D.C. all-star team that will take on a team of Washington, D.C. high school all-stars as part of the Capital Classic festivities on the campus of American University at Bender Arena. The main event pitting a team of U.S. all stars against a squad of this area's best will follow.
Leading the senior will be a familiar face, T.C. Williams coach Julian King, who was tabbed as the suburban team's coach after he took the Titans all the way to the state quarterfinals in his first season at the helm.
<b>Skeeter Back in Town</b>
Alexandria native and Tennessee basketball Hall of Famer Skeeter Swift will be appearing at 1 p.m. Tuesday, April 7, at the Charles Houston Recreation Center in Alexandria. He will make a motivational presentation for the city's youth. Skeeter, a candidate for the Virginia Sports Hall of Fame, was a successful collegiate and professional player, as well as a successful high school and college coach. His appearance is being sponsored by the Hoop Academy Project, a division of Hoop Academy International, Inc. and Alexandria Department of Recreation, Parks and Cultural Activities.