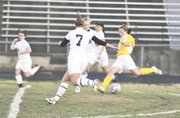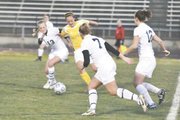 On your average soccer team, a freshman's desire to "go and win states again" or to "get a state ring" would probably be met with a cockeyed look and a push to the side, exhorting that freshman to keep his or her mouth shut. And probably with some added advice to go seek help.
But when that same line comes out of Barb Platenberg, the Robinson girls' soccer team's freshman phenom who'll join LeighAnne Baxter, Audrey Barry and Jensen Smith to defend the Rams' Virginia AAA state title from a year ago, those words are somehow believable.
Platenberg was a team manager on last year's group, which went 20-1-0, swept the Concorde District and Northern Region titles and defeated Battlefield, 2-1, in the state final. With this year's bunch, she's just another one of the Rams' many offensive weapons.
"It's been challenging," said Platenberg, who notched a hat trick during Robinson's 5-1 win at Centreville on Monday. "With all the practices every day, you have to work hard to win your spot."
While Platenberg figures to show up on more than a few score sheets throughout the season, the reality remains that, even if her name were somehow absent, Robinson would still manage. The Rams graduated two key members from last year's team, goalkeeper Katherine Yount and midfielder Kristen Smith, who are both playing at William & Mary.
The Rams' significant returners are many. Barry, a junior forward who earned first team All-State honors last spring, scored 31 goals and added 24 assists. LeighAnne Baxter, a senior forward who added 20 goals and 18 assists last spring, also returns.
"We have a great group of girls that works hard every day," said Baxter, who will play soccer this fall at the University of Richmond. She's one of four starters that are committed to Division-I programs. "That's a big part of it because when you're having fun, it helps everything to flow," she said.
<b>WINNING ISN'T</b> a bad morale booster, either. Since 29th-year head coach Jim Rike took over at Robinson, the Rams have gone 394-97-41, winning 10 district, 10 region and five state titles. But none of Robinson's state crowns have come in consecutive years, providing the team with even more incentive.
"That's our goal for the team and that's what we want to accomplish this year," Platenberg said.
Repeating last year's success seemed a long way away when the Rams opened with a 2-2 tie against W.T. Woodson on March 11. In that game, Rike felt the team's performance was way too inconsistent. In successive wins over Woodbridge and Lake Braddock, Robinson again did not perform up to its potential, Rike said.
But against Centreville, the Rams finally broke loose. Tied 1-1 at the half, they scored four unanswered goals during the second 40-minute frame, finally playing to their own expectations rather than their opponent's.
"That's my big challenge right now is to get these kids to play at their level, make other teams play at our level and stop lowering our level down to the teams we play," Rike said. "But they realized, if they don't come out and put a couple more in the net, they could lose the game."
In addition to Barry (William & Mary), Baxter and Platenberg, Robinson will benefit from Smith (Richmond), who had 10 goals and 19 assists last season, and senior Monika Criman, a defender who scored two goals and added five assists in 2008 when she was a second team All-District pick.
But while the contributions of Robinson's nine returning starters have been expected since the moment the team hoisted its trophy on a sweltering afternoon at Westfield High School, Platenberg's emergence has been bonus, the kind of bonus that's normally not expected out of a freshman.
"Gone are the days when freshmen have to carry the water jug and balls," said Rike, whose team played host to Herndon Wednesday night, which ended after this edition went to press. "We return nine starters and then you add Barb in the mix … that helps."