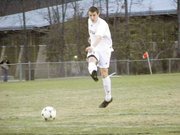 When boiled down, Sean Murnane really just missed the field. Sure, he always thought about re-joining his friends at Westfield High School, but in the short term, the Bulldogs' soccer field was much easier to play on than Herndon's, where Murnane spent his junior season.
Murnane scored 14 goals on Westfield's turf as a sophomore, but three weeks prior to the start of 2008 season transferred to Herndon and formed a talented one-two punch with fellow Hornet, Christian McLaughlin, who, like Murnane, will suit up at the University of Virginia this fall.
"They had a lot of cool guys, and I definitely respect them" Murnane said of his now-former teammates. They were accepting of me, so it turned out well."
Murnane and McLaughlin helped Herndon amass a 14-2 record last spring, win the Concorde District title and reach the Northern Region quarterfinals. Meantime, Westfield went 13-3-2 and reached the region semifinals, losing to state runner-up Robinson, 1-0.
After spending last January through June at Herndon because of a situation that Murnane said was "not his choice," he's now back where everything started, as a Bulldog. And, according to Torres, he's had a tremendous impact on his teammates.
"With Sean being back, you have a proven leader and a guy that knows what he's doing," Torres said. "He paints a great picture for [his teammates] by doing all those little things at training. He brings a mentality, and guys get to see his intensity, his work rate and all those sorts of things."
<b>THE RESULTS</b> have done nothing but reinforce Murnane's positive influence on the team. In Westfield's first four games -- all wins -- the team scored a total of 20 goals. And despite a 3-1 setback against Robinson last Friday, Westfield responded with a 7-2 win over Oakton on Tuesday.
In those six games, Murnane has 11 goals and four assists, as Westfield played host to Centreville on Wednesday night, which ended after this edition went to press.
Sixteen seniors are gone from last year's group, including eight starters. So Torres will look to seniors Irvin Herrera and Corey Fortier for supplemental scoring; the duo combined for eight goals and five assists last spring.
While the losses from last year's team are significant, it's the one item that Westfield has gained this season that has provided the biggest reason for optimism. Because despite those 13 wins and an overall successful season, the Bulldogs were missing that prolific scorer up top.
Now he's back.
"It feels great to be back," Murnane said. "I'm back where I started. I always though in the back of my mind that I wanted to end my career at Westfield with a bunch of my childhood friends."