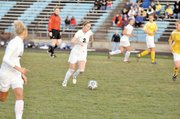 Just six minutes into her girls' soccer team's game against Robinson on Monday night, Centreville junior Jenna Richmond went for a loose ball, collided with an opposing player and fell to the ground.
Four minutes later, a near-identical play occurred. For someone recovering from surgery that occurred a little more than a year ago to repair a torn anterior cruciate ligament, this early-game sequence might've presented a problem.
But for Richmond, one of the area's top soccer stars and an under-20 U.S. women's national team pool player, the sequence only presented a problem because neither time did she score a goal. She only pulled her right sock up over her brace-less knee and moved on.
Richmond suffered the injury when she attempted a tackle last February during a game with the national team in New Zealand. Now she's back, fully recovered. And she's ready to make amends on the high school circuit.
"I was devastated," Richmond, a forward-midfielder, said of the injury, which left about a four-inch purple scar that runs like a fault line down her knee. "Because of that it made me come back 10 times stronger. I love soccer. It's my passion, so I couldn't just stop. I had to work 100 times harder."
In 2007, Richmond helped Centreville reach the Virginia AAA state semifinals by scoring 12 goals and adding 10 assists -- both team-highs. And although the Wildcats went 17-3-2 during Richmond's freshman season, without her they went 7-8-2 last spring.
Meantime, Centreville's longtime head coach, Warren Williams, departed to take the same job at W.T. Woodson during the off-season. Williams posted a 117-46-10 record during his nine years off of Union Mill Road, winning five district and two region titles. His teams reached the state tournament four times.
<b>IN WILLIAMS'</b> absence, Centreville hired Rob Olson to fill the void. During the day, Olson works as the director of coaching for Southwestern Youth Association soccer. He also lives a corner kick away from Centreville High School.
"I never saw them play, and I never saw Jenna play before," Olson said. "But she's a good kid, a good leader and obviously a good player. She's a joy to coach, and the girls, for the most part, get along. We'll try to enjoy it and get better."
Four games into the 2009 season, Centreville has been as strong as advertised. In the season's first few days, the Wildcats toppled Patriot District favorites South County (4-1) and West Springfield (1-0) before battling Liberty District stalwart Stone Bridge to a 0-0 tie.
Against Robinson on Monday, the Wildcats had an even tougher test, facing the defending state champs which return nine starters this season. Despite entering halftime tied at one, Robinson erupted for four goals in the second half and walked away with a 5-1 win.
"We've been trying to figure out how to work with each other and how to play off of each other," Richmond said. "We'll go back to practice, work on some things and come back stronger."
On the boys' side at Centreville, second-year coach Brian Cochran will hope to improve upon last year's 3-7-3 overall record and 1-5 mark against district opponents. The Wildcats fell to Westfield in the first round of last spring's district tournament.
Though Brandon Chu and Steve Linane are gone, Centreville will counter with junior Calder Street (two goals, two assists last spring) and seniors Matt Cochran, Jacob Lawrence (two goals) and senior Paul Portal, who sat out last season.
So far this spring, the Centreville boys' team has started 3-3, with key wins over Robinson, West Springfield and W.T. Woodson.