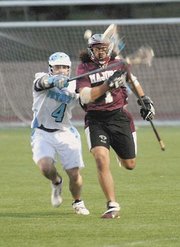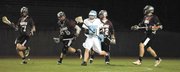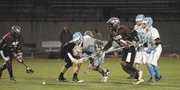 Back in the 1920s, famed sportswriter Heywood Braun once wrote, "The tragedy of man is not that he loses, but that he almost wins," in reference to a boxing match between Jack Dempsey and a lesser boxer.
He could have easily been talking about Monday night's boys' lacrosse showdown between Yorktown and Mount Vernon. The winless Patriots watched a three-goal lead with six minutes remaining evaporate as the Majors scored four unanswered goals — including the game winner with 38 seconds remaining — en route to an 8-7 victory.
What's more memorable, though, is what happened after the contest's final goal. With possession of the ball for one final charge at the net, Yorktown coach Greg Beer called a timeout to set up a play. As players jogged over to the sideline, the stadium lights at Yorktown suddenly went off, leaving a pitch-black playing surface.
The stadium lights were on a timer and set to go off promptly at 9 p.m. But after a 15-minute delay, the lights came back on and the final 25 seconds of the game were completed. Once Patriot sophomore Michael Crow's last ditch effort fell short when he lost possession, the Majors rushed the field in celebration of a comeback victory and Yorktown could only wonder what it will take to finally get out of the losing column this season.
"We showed our youth in the fourth quarter and Mount Vernon showed they got a lot of good seniors," said Beer, whose team never trailed until Mount Vernon scored its eighth and final goal.
Part of the problem was that Yorktown had a fourth-quarter goal erased after Mount Vernon coach Dale Nalls asked the refs to check the stick of senior midfielder Nick DuBose once his bouncing shot had gone into the net with just under 11 minutes remaining. Coaches are permitted one stick challenge per half and this time, the officials determined the pocket of DuBose's stick to be too deep according to high school rules.
It has been that kind of season for Beer and his team. A year after making it to the district finals and two years removed from a National District title, the Patriots are in rebuilding mode, having lost 19 seniors from last season. As a result, Yorktown has struggled and is now off to an 0-6 start to the season, including the program's first-ever loss to Arlington rival Washington-Lee.
It hasn't helped that two seniors who were expected to contribute — Nick Netting and Stuart Couch — went down with early-season injuries, but Beer still has senior attack Harry Savage and senior goalie Nick Ridgely to help carry the load.
Against Mount Vernon, an effort Beer called the team's "best game of the year so far," Savage finished with two goals and two assists, while Crow had two goals and one assist. DuBose chipped in with a goal as well. But it was Ridgeley who was the main reason Yorktown staked itself to an early lead. The senior netminder thwarted several Mount Vernon (4-1) barrages at the goalmouth, something that has developed into a pattern through the first month of the lacrosse season.
"Because our defense is two sophomores and a freshmen and he has been the lone senior back there, it's almost like he's a coach on the field," said Beer. "We're 0-6, but we've been respectable in every single game and that's because of Sam."
If anything, Monday night showed that despite its winless record, Yorktown can hang with just about anyone in the National District. The Patriots and Mount Vernon have combined for eight of the last nine district titles and the Majors recently played district favorite Falls Church to a near-stalemate.
"We're clawing," said Beer. "We've gotten better every game, we just need to get over the hump."