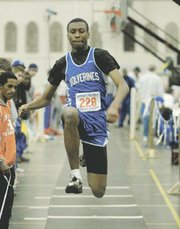 On April 25 at the prestigious Penn Relays in Philadelphia, the West Potomac 4x400-meter relay team just wanted to be able to savor the memory of racing in one of the world's best track and field events. Instead, Joe Bradley, Jon McCants, Chris Montgomery, and Brandon Comfort came home having recorded the fastest 4x400 time in the state of Virginia this year and the fourth-best time in the entire nation. Here's an account of how it all went down from Bradley:
"We're warming up on the University of Pennsylvania campus. Our thoughts are on the race, and else where. Jon, Brandon and I are veterans and know not to expect anything too great, especially considering the competition in our heat. There are three Jamaican teams and the fastest 4x400-meter from California (Rancho Verde). We don't expect to stand a chance, we're out there to have fun. Chris is getting pumped for his second race in front of the stadium that weekend. We're all anticipant.
We get around to stretching, and right as we start to wrap it up, coach (Don Beeby) comes walking at a fast pace. He gives us a stern look and says, 'They've called your heat number. You guys need to go. Now!' So off we go, grabbing our spikes and jogging to the cow-call (the fence-divided area where they initially line the heats up, like cows). We get there and put our racing shoes on, and the man with the megaphone is calling heats 210-221. Our heat is number 204.
Brandon suddenly stops preparing. We all look up, and he looks as though he's done for. 'Guys,' he says gravely, 'I forgot the relay card.' 'Brandon, don't think. Just get it!' I say harshly.
Brandon runs in socked feet all the way back to coach, snags the relay card from his sweats, and runs back to us. Jon takes the card while Brandon swiftly slides on his spikes and we begin to march. We move from official to official, encountering at least six. Each time our hearts sink, as we hope we haven't missed our race. Each official says the same thing: 'Oh! You're late! Get up there, quick!'
We come near the end, the paddock area. This is where the relays are organized by heat and prepare to step out on the track. We think and hope we're the last relay about to deploy on the paddock. But our luck has run out. It's apparently our heat that is stepping on to the starting line. We have made it, with barely seconds to spare.
Brandon ties his shoe, takes a baton and quickly readies himself. The race is only about to begin.
"Our hearts are pounding as Brandon takes off. He runs quickly, cleverly. Coming off the last curve he avoids two fallen athletes and runs wide, which gives him room to take third place and reach Chris in the abundance of race ready 2nd Legs. Chris takes off fast and holds our position behind Rancho Verde. We're in a steady third, with a small pack of schools a couple of meters behind. I get the baton after saying good luck to Rancho Verde's fastest leg, Ruben Danielsen (who runs a 47.79 split). As we gain on Wolmer's Boys from Kingston, Jamaica, Ruben takes off to gain the lead and, I chase- like a dog does after cars- until I reach Jon McCants. He is our secret weapon.
Jon takes off and immediately sets a new pace. Each stride he is reaching and striving for the two athletes 25 meters ahead. Each step, it becomes less. With 200 to go Jon is still 15 meters behind, but closing in. As he hits the end of the curve he empties the tank only to shoot past Wolmer's steps before the finish line. With a two-meter lead, Jon runs an outrageous 47.4 second finishing split.
Just then, it is announced. I hear it, and I scream and jump and hug random people preparing for and leaving races. I have just had the time of my life, running in front of 48,000 spectators. My team has just run a 3:15.27 second 4x400 meter relay, placing us as fifth in the meet, fourth in the nation, first in the state, and the first team in our school's history to make it to the finals of Penn Relays. In those moments together, we shattered our high school's record, and had the most fun weekend in our entire track careers.