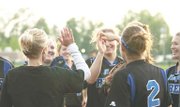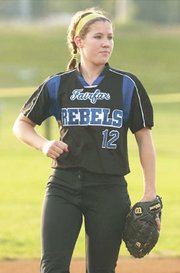 Lisa Charney, a senior on the Fairfax softball team, thinks that her team's collective heartbeat mirrors that of junior pitcher Ashley Rollins, who missed the majority of last season with a partially torn rotator cuff.
When Rollins is upbeat, so are her teammates. When she's having an off day, things generally aren't much better for the Rebels. And when Rollins is pitching well, Fairfax, at 12-4 this season, is nearly unstoppable.
"If Ashley has a down attitude, it will reflect on the team," said Charney, who was named the Concorde District's Player of the Year this fall for field hockey, scoring a team-high 16 goals. "If she has the best attitude, the whole team picks up on it. Ashley is the attitude of the team."
So what better way to ensure a positive outlook on life than a whole truckload of sugar? In a tradition that she has carried on since her freshman field hockey season, Charney makes sure to consume a Slurpee from 7-Eleven before every game. Now, Rollins is catching on. Before a home game against Herndon on Thursday, April 23, Rollins' father brought her a Coca-a-Cola-flavored Slurpee and she hit a home run. The next game, an away contest at Chantilly, Rollins' dad did the same thing out of superstition and another homer ensued.
With both players amped up on the Double Gulp-sized refreshments, along with six or seven teammates, according to Charney, Fairfax took to the field last Friday against Oakton, and it took about 10 minutes to prove Charney's assessment of Rollins' impact to be correct.
Rollins, batting in the No. 3 slot with third baseman Kirsten Manville on second base, scorched a single through the left side, scoring the Rebels' first run only three at-bats into the game. From there, Rollins tossed a complete-game, three-hit shutout, striking out eight and walking one in the 2-0 win.
<b>A YEAR AGO,</b> Rollins' presence wasn't nearly as influential. Sure, she was around and cheered on her teammates, but her rotator cuff issue prevented her from doing much else. After pitching through the pain for about three weeks, Rollins got an MRI and was eventually shut down. In her absence, Fairfax went on to finish 1-13 and was mired at the bottom of the Concorde District standings. But Rollins went through two-plus months of physical therapy and was able to recover without surgery, pitching pain-free from the outset this spring.
Though she had been around for six years as an assistant at Fairfax, first-year head coach Corey Stokes said she has never seen a team with this kind of excitement surrounding it. With a 7-3 mark against district opponents, Fairfax is very much a threat to make a postseason run. Oddly enough, the fact that Fairfax is now competitive has even had a somewhat-negative effect on some of its players.
"Now that we're winning, we're getting a little moodier," Stokes said. "They get a little more stressed. It's so weird because they're usually carefree, and I think now that we're winning they expect more, which is good."
In addition to Rollins and Charney, who leads the team with a .490 batting average and 17 RBIs, Stokes has also been pleased with the work of Manville and catcher Julia Marrin. Manville ranks second on the team with a .472 average, while Marrin is fourth at .388.
"We've always been at the bottom, and that's what's great: This district, it's all up for grabs," Stokes said. "They're not scared. They're confident. And if we continue to hit the ball, I think we'll be good."
<b>BEFORE HER INJURY,</b> Rollins didn't have to think about that point when her right arm was extended backward to its furthest point. It was a natural reaction for her to push forward and fling it toward the plate like many aspiring pitchers only wish they could.
But when she first started her comeback, Rollins caught herself moving her body forward without her arm, a slight hitch that she thinks was more of a mental block than anything else. With time, the hitch disappeared and now she's pitching without pain or peers.
Rollins (12-4) has thrown every inning for Fairfax this season, all 110 of them while compiling 164 strikeouts -- 51 on called third -- strikes. Her tiny 1.02 ERA is only eclipsed by the fact that opponents are hitting .128 against her.
Like Charney said, Rollins has been at the center of the Rebels' rise from the Concorde's dregs to the top of the district, making last season's mark even more forgettable.
"I try to think about last season, and honestly, it's so hard to remember because I wasn't pitching," said Rollins, who was also hitting .391 with 12 RBIs and 11 runs scored. "I was there for my team, but it's so hard to think about the fact that I missed the whole season. I just can't believe it."