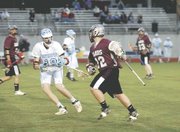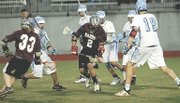 Sometimes a coach will draw up that perfect play in an end-of-game situation, where everything seems to fall into place for game-winning heroics. More often than not, though, you end up with what happened in Tuesday night's rain-soaked National District boys' lacrosse semifinal between Mount Vernon and Yorktown, which took place at Washington-Lee.
Tied at eight apiece with just more than a minute remaining in regulation, Mount Vernon coach Dale Nalls had watched his Majors gradually lose a four-goal lead when he called a timeout to set up what he hoped would the game-winning and final score.
Whatever strategy he devised hit the fan almost immediately as an errant pass forced senior Brian Green to chase down a loose ball at midfield. After calmly collecting it, Green began his charge to the net, finding fellow senior Austin Myhre behind the Yorktown net.
To Myhre's surprise, one move later he was standing alone in front of the goal mouth and firing a bouncing shot past the Patriot keeper to give Mount Vernon a dramatic 9-8 victory and a spot in Friday night's National District championship against Falls Church.
"It wasn't even planned, it just happened," said Myhre. "I just felt that I got a step on my defender and I took it to the house. I'm so excited, this is my first time scoring a game winner."
If that wasn't exhilarating enough, the 30 seconds that followed could have been more nerve wracking, depending on whom one asks. Once Myhre scored, Yorktown coach Greg Beer asked the refs to check his stick to make sure it was legal. It was the exact move Nalls successfully pulled on Beer to get a Yorktown goal reversed when the two teams met earlier in the season.
As chance would have it, though, Nalls had a plan for this. Before he let any of his players get on the bus to make the trek from Mount Vernon to Arlington, he checked each and every one of their sticks to be certain they were legal.
"I was nervous as heck, though," admitted Nalls after Myhre's stick — and goal — were deemed acceptable.
<b>THE MAJORS STAKED</b> themselves to an early 5-1 lead in the first half thanks to goals from junior Brendan Doyle, Green, and Myhre, but watched it evaporate over the course of the second and third quarters thanks to five unanswered Yorktown goals.
From there, the teams began trading goals. The game was a complete role reversal from the teams' lone meeting during the regular season, where Yorktown staked itself to a 9-4 lead, only to watch the Majors make a late charge to take the game, 10-9.
But the tide appeared to change in Mount Vernon's favor for good Tuesday after junior Habib Balde laid out a Yorktown player on what appeared to be a legal hit with eight minutes remaining. The refs disagreed and called a penalty, giving the Patriots a man advantage. But Doyle somehow broke free of the Yorktown defense a la Randy Moss on a go pattern in football, and scored a shorthanded breakaway goal that appeared to break the Patriots' spirit.
This being the playoffs, though, Yorktown had a response. With less than two minutes remaining, Patriot sophomore Michael Crowe tied the game for a fourth time. That's when Myhre ditched the game plan and took matters into his own stick, something his teammates are grateful for now that they have the opportunity to face Falls Church, their lone district loss during the regular season.
"Game winners in the regular season are nice," said Doyle of Myhre. "But playoff game winners, the last two minutes, you can't beat it."
<b>THE MOUNT VERNON GIRLS</b> weren't so fortunate when it came to end-of-the-game heroics in their semifinal matchup with Falls Church Tuesday night in the rain. The Majors fell behind early, 9-1, and looked like they might just give in to the poor weather and an even worse start trailing 12-6 with 20 minutes remaining in the game.
All of a sudden, though, something clicked. Led by all-district selections Grace Valentine and Megan Gibbs and junior Lacy Rolling, the Majors tallied seven of the game's next eight scores to tie the game at 13 with less than five minutes to go.
But as is the case in a lot of near-comebacks, Mount Vernon ran out of gas, giving up a Falls Church goal at the three-minute mark that ended up standing the test of time. Although the loss was a letdown, the furious comeback should serve the Majors well when they play in next week's Northern Region tournament.
"[The loss] is a killer, an absolute killer, particularly because they didn't play their game at all in the first half," said coach Meaghan Cromwell "That's what is hard to watch as a coach, to know your team can do so much better. Unfortunately we fell short one, but it happens. I'm proud of them."