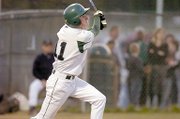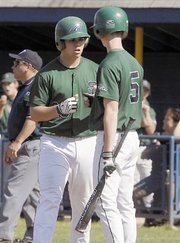 Trailing 8-6 entering the top of the seventh inning last Thursday, South County senior Nick Digby hit a pair of home runs, spurring his team to a 12-run rally and, eventually, a come-from-behind win. Then Digby and Co. gathered their equipment, went home and relaxed. After all, they had a real game the next day.
Digby's heroics came during an intra-squad scrimmage on April 30, but judging by the game's result and how members of South County's baseball team still talk about it, one could liken it to Game 7 of the World Series. Of course, with 45 minutes of field maintenance on the line, the comparison, for high school students at least, might actually be legit.
"So you know we were like, 'All right, we want to win this,'" said Digby, who has a team-high 30 RBIs this spring.
It could be a bunting drill, a set of sprints or some made-up-at-the-moment intra-squad game, but South County has tried to make everything at practice a competition. With a 13-4 record through Wednesday morning, it would be tough to argue with the practice philosophies of fourth-year coach Mark Luther.
South County was scheduled to host West Springfield Wednesday night, which would've ended too late for this edition.
But despite developing a reputation as a haven for pitching and defense, South County suddenly leads all Northern Region baseball teams in offensive production, scoring a total of 156 runs or an average of 9.2 per game.
<b>THEIR PICTURES</b> reside in a glass case off to the right of South County's gymnasium that commemorates the Stallions' already-rich baseball history, which includes Patriot District titles in 2006 and 2007. Kyle Hald, Mike Graham and Jesse Beal all pitched for the Stallions and all are currently pitching in college or the pros.
Hald and Graham were both big lefties who now pitch for Old Dominion and Virginia Commonwealth, respectively. The right-handed Beal, meanwhile, was drafted in the 14th round (416th overall) by the Baltimore Orioles last June and is currently pitching for the O's Gulf Coast League affiliate.
All told, Hald, Graham and Beal turned South County into a great place to watch a 2-1 ballgame but not one where the scorekeeper's wrist might start to cramp. But out of the Stallions' 13 wins this spring, six have been by 10 or more runs and they've reached double digits in seven of those 13 games.
"We swing it pretty well," Luther said. "We're pretty good top to bottom in our lineup. One through nine, you don't get any time off as a pitcher."
Not that Luther wants to abandon two of the most coveted talents on any successful baseball team, either.
"We're still the same way -- pitching and defense first -- because we think that's what's going to win," Luther said. "But now we try to get out early and make other teams catch up to us."
<b>IN A DISTRICT</b> that boasts such deep and talented teams as those from Lake Braddock (14-4, 10-2 Patriot) and West Springfield (14-4, 12-0 Patriot), the Stallions, with a 9-3 mark against Patriot teams, find themselves as the likely No. 3 seed in next week's district tournament.
Unless South County pulls off a stunning upset during the rescheduled rainout against West Springfield, they would have gone 0-4 against those teams during the regular season. Still, the regular-season results do not concern Luther or his players.
"The district is nice, but we play for regional titles here," Luther said. "We have two district titles, but we want the next one."
"We're there toe-to-toe with them, and it's anybody's game when we play those guys," said Seth Jordan, of the three-way rivalry. "They know it's going to be a rough game, and we know it's going to be a rough game. But we know that on any given day we can beat them."
To do that, South County will continue its tradition of turning every practice drill into a game, whether it's a 12-out fielding drill or a simulated game where players are given one pitch and have to put it into play.
"We try to get as competitive as we can," said Luther, whose team parlayed that initial Thursday practice into an 18-3 win over T.C. Williams on May 1, tallying nine hits and seven runs during the first inning. "You got to do some things to keep it from being boring."