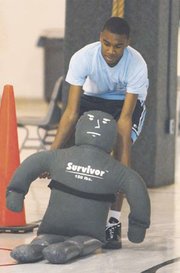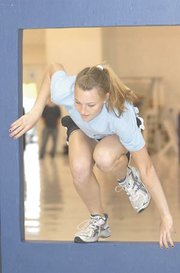 <b>Criminal Justice Field Day</b>
Sean Stewart runs through an obstacle course during a competition between area high school criminal justice programs as part of the annual Criminal Justice Field Day at the Fairfax County Criminal Justice Academy on May 4. Stewart is enrolled in the criminal justice program at the West Potomac Academy and is a student at Mount Vernon High School. Students were judged on a variety of police skills, besides the obstacle course, like crime scene investigation, LASER shooting and FACES, a computer program used to draw sketches during investigations.
<b>Chocolate Dress for Sweet Charity Benefit</b>
West Potomac Academy Fashion Design students are designing and creating the chocolate dress to be worn in the Sweet Charity chocolate fashion show benefit on Monday, May 11, at the Mandarin Oriental in Washington, D.C. The benefit will support Books From the Heart, a program of the Heart of America Foundation, to provide books to needy children and schools in the Washington, D.C., metropolitan area.
Corporate pastry chef Anil Rohira will adorn the students' chocolate dress in Swiss chocolates, candy flowers, and macaroons. The fashion show will feature the four finalists and the winning dress, all from West Potomac Academy; the winning dress will be modeled by Kate Michael, Miss District of Columbia 2006.
To view the students' dresses, visit http://www.projectstitchstudio.com.
<b>Woods Receives Pamplin Award</b>
Kelly E, Wood is the recipient of the 2009 Pamplin Leader Award at West Potomac High School. The Pamplin Leader is a one-year, $1,000 tuition scholarship to Virginia Tech. Presented annually to a top student from each public high school in the state, it was establishwd by Robert B. Pamplin Sr. (VT, Class of '33) and Robert B. Pamplin, Jr., to acknowledge students with a record of outstanding academic achievement that is balanced with a commitment to community service and leadership experience.