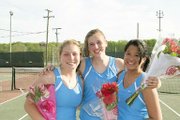 The Marshall High girls' tennis team concluded the regular season with a 9-0 home win over Liberty District opponent South Lakes. The win over the Seahawks was a strong, bounce-back team win following a loss to Woodson the match before. The setback to the Cavaliers had snapped Marshall's 12-match win streak.
Marshall honored its seniors before taking the court against South Lakes. Four-year letter winners and seniors Astrid Adam, Amanda Crider and Christina Nguyen were escorted onto the court under a canopy of raised racquets from their teammates. Marshall No. 1 singles player Faby Chaillo finished the regular season unbeaten in singles play. In addition, she teamed with Ana Dominguez to go undefeated at No. 1 doubles as well.
On April 20, Marshall lost its tough match to Woodson. On the blisteringly hot Monday, the competition equaled the intensity of the heat as the two, talented district teams both competed hard. Woodson ended Marshall's undefeated 11-0 season with a hard earned 5-4 victory. In singles action, Marshall's Chaillo remained undefeated at No. 1 singles, beating Dana Hummel. Marshall's other wins in singles came from Amanda Crider (No. 4 singles) and Kelly Crider (No. 6). With the team score tied at 3-3, doubles followed. There, Woodson won two of the three matches to earn the team win. Marshall's lone doubles win came from Chaillo and Dominguez at No. 1.
Marshall and Jefferson competed in what turned out to be a district marathon match on April 24. It was a competitive match between two good teams with the Statesmen ultimately winning, 5-4. The match began at 4 p.m. and did not conclude until 10:20 p.m. It included many momentum changes for each team and ended with a location change to a park with lighted courts. In the end, Marshall was able to gain the team win. The match victory was clinched when Marshall's No. 2 doubles team of Amanda Crider and Lauren Hopwood came from behind to win.
A day earlier, Marshall traveled to Stone Bridge for a district match against the Bulldogs. Marshall won all six singles matches to clinch the team win. Singles winners were: Ana Dominguez (No. 1), Haley Plotner (No. 2), Amanda Crider (No. 3), Sarah Doan (No. 4), Astrid Adam (No. 5) and Kelly Crider (No. 6).
With the team match decided, Marshall's starting doubles teams were given a rest and some new teams competed well for Marshall. At No. 1, Patricia Garvey and Katie MacDowell fought hard but came up short, 3-8. At No. 2, Milli Mittal and Sophie Pellerin put it all together and won 8-5. At No. 3, Rebecca Hintz and Ladan Nikbakhsnian came close but fell 8-4.
In another recent district match, Marshall, hosting McLean on a windy day, prevailed over the Highlanders, 8-1. Leading the way for Marshall was Chaillo, who was able to defeat a dangerous Alex Assaf by a score of 8-4 at No. 1 singles. Meanwhile, at No. 2, Dominguez played a superb match to defeat a tough Anske Venter, 8-6.
Other singles winners for Marshall were No. 3 Amanda Crider, No. 5 Sarah Doan and No. 6 Kelly Crider. Marshall continued its momentum into doubles play and quickly won on courts one and two. Winning at No. 1 were teammates Chailo and Dominguez, while Amanda Crider and Lauren Hopwood were victorious at No. 2 doubles. The No. 3 doubles match was outstanding, with lots of excellent shot selection and court movement. The Marshall team of Astrid Adam and Kelly Crider came away with a well-earned victory.