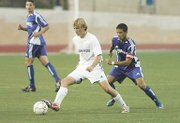 Randy May, the Stone Bridge High boys' soccer coach, was not sure what to expect from his team entering the spring season a couple months ago. The Bulldogs had lost seven key starters from last year's Northern Region title winning team. So May realized a lot of this season's first-year varsity starters would have to come up big.
And they have. Stone Bridge, with a vastly different team from the Liberty District and region champions of a year ago, has put together a splendid season. Entering this week, the Bulldogs carried an 8-1-1 overall record, and a 2-1-1 district mark. With the district tournament set to begin next Monday, May likes where his team is at as the regular season draws to a close.
"I'm very pleased," he said. "Certainly there were a lot of questions going into the season and filling in [starting roles] for guys who graduated. We've found a way to get to a real good spot at 8-1-1."
May is quite happy with the way this year's squad has bonded into a tight-knit unit. A core of veteran players who were key members of last year's team has led the way this season, according to the coach. Those players include senior goalie Matt Miscione, center backs Abdul Shaban (junior) and Chris Kamara (senior), senior center midfielder Zack Miller and junior forward Mike Herndon.
"Those guys are just winners," said May, of the team leaders. "They play honestly and the way soccer should be played. That mentality permeates to the team. It's exciting to be with this group."
The Bulldogs have a mindset on the playing field that fits their school nickname. They play with tenacity throughout the game.
"This team is resilient," said May. "We don't give up. That's kind of the makeup of the boys and the make-up of the program."
<b>STONE BRIDGE'S</b> only loss came to visiting McLean, 2-1, on March 30. The Highlanders lead the Liberty District and are the talk of the region thus far. Stone Bridge led that game against McLean 1-0 in the first half. May said his team could not extend the lead in the opening half despite having several chances. Another score, May believes, would have probably resulted in a Stone Bridge win.
The Bulldogs' other non-win came in a 1-1 tie against district foe Jefferson. Stone Bridge outshot the Colonials, 16-5, that night but could not gain the win.
"We created a number of scoring chances," said May, of the deadlock. "But the game of soccer is about finishing goals."
In recent wins over Langley, 4-1, and non-district opponent Chantilly, 4-2, Stone Bridge has gotten its offense in gear. The Bulldogs broke loose for all four of its goals in the second half against Chantilly.
Stone Bridge's leading scorer is Herndon (7 goals, 3 assists), the junior forward.
"He's one of the key guys up front and people have been marking him," said May. "He's tireless and relentless in getting to the ball."
Stone Bridge was scheduled to play at Marshall on Wednesday of this week before closing the regular season with a home make-up game against South Lakes on Thursday. The Bulldogs are likely to be a No. 2 or 3 seed in next week's district tournament. They will play a quarterfinals round game on Monday (May 11). A win in that contest will qualify the Bulldogs for the following week's 16-team region tournament. A first round district tournament loss will end the season.
May said the team's goals prior to the season included having a winning season, qualifying for the region playoffs and reaching the region title game. Last year, the Bulldogs defeated Robinson for the region championship. At the eight-team state AAA playoffs, Stone Bridge saw its season end with a loss to Kecoughtan (Hampton).