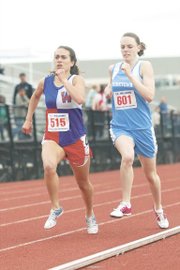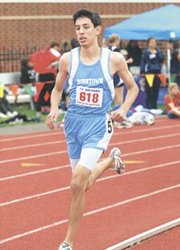 Big track and field meets like last Saturday's T.C. Williams Invitational have their positives and negatives. With 44 schools and close to 800 athletes, simple things like knowing where to show up for a race or even when a race is scheduled to begin can be a tricky task.
Not to mention the tall order of warming up when the weather is cold with a constant drizzle coming from the sky as it was this past weekend. But Yorktown's Eric Grant has taken a liking to the scene of a large track meet for reasons that shouldn't be shocking to anybody who has been around a teenage boy recently.
"The competition is great," said a smiling Grant, who runs the 100- and 200-meter dashes and is a member of the Patriots' 4x400-meter team. "But I like being able to talk with all the girls."
<b>SOMETIMES</b>, though, with all the attention on everything going on around the meet, athletes can get lost in the shuffle and forget to get the proper amount of warm up in. That didn't seem to be a problem for the Yorktown girls, especially the long distance runners, who showed up for just the afternoon portion of the meet.
Led by junior Lindsey Hunt, who took fifth place in the 800-meters and second place in the 1600-meter run, the Patriot girls had their best showings of the day in the races that needed the most stamina.
In addition, junior Michelle Sutherland finished ninth in the grueling 3200-meter race. Senior LaNia Charity, a standout on the basketball team this winter, took seventh place in the discus throw and 10th place in the shot put.
"In track, I usually don't think about it, I just do it," said Charity. "In basketball, I have to be mentally prepared."
<b>ON THE BOYS'</b> side, Yorktown was led by Dylan McGowan's fourth-place finish in the 1600-meter run. He was followed closely by teammate John Papavizas, who came in 10th place. Sophomore Thomas Milton and Junior Phillip Garretson finished side-by-side in the 800-meter run with ninth- and 10th-place showings, respectively. As a team, the boys finished in 19th place, while the girls came in 14th overall.
The National District championships begin next Tuesday at Edison.