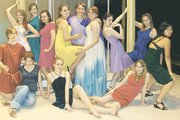 Picture a pristine ancient Grecian setting: Parthenon-style houses, flowing fountains, beautiful girls and ... high-school boys in togas? These may not seem to fit together quite right, but the best of both worlds came together in Fairfax High School's hilarious production of "A Funny Thing Happened on the Way to the Forum." Based on the book by Burt Shevelove and Larry Gelbart, Stephen Sondheim's Broadway musical premiered in 1962 and has received several Tony Awards. The plot follows the love connection of young Hero and Philia. This young couple is allowed to be brought together through the work of Hero's slave Pseudolus, who is promised freedom from Hero if he can get Philia for him. This feat proves easier said than done and is the focus of the comedic drama.
Fairfax's production proved truly excellent. The energetic and lively cast was a necessity to execute the action in this play, and they went above and beyond. Jeremy Tuohy, portraying Pseudolus, carried the cast skillfully through the action of the play, inducing giggles every few seconds. Hysterium, Pseudolus' fellow servant, was played by Mikail Faalasli, and stood out in this already crazy production. Whether with an obscure dance move or his hilarious falsetto in the "Lovely Reprise," he had the audience rolling with laughter.
Hero and Philia, played by John Miller and Phoebe Torres, possessed an innocent, natural and refreshing chemistry reminiscent of a playground romance. Marcus Lycus, portrayed by Blaine Cytryn and Miles Gloriosus, played by Zach Goubeaux, added comedy and vocal power to the ensemble. Also, not to be forgotten were Senex and Domina, played by Jesse Free and Maddy Goubeaux.
Goubeaux, in her vocal solo "That Dirty Old Man," displayed a range and control of voice virtually unheard of in high school theater, making for a truly stellar performance. The entire ensemble provided a good dose of silliness to the story line, making this musical extremely enjoyable.
The technical aspects of "A Funny Thing Happened on the Way to the Forum" were also top notch. The lighting was unique and inspired, especially the use of a mirror ball in select scenes. The costumes, mostly student made, were vibrant and fitting for the action. The sets were also beautiful, colorful, intricately detailed, and manipulated proficiently by an able and efficient stage crew.
"A Funny Thing Happened on the Way to the Forum" was a true audience pleaser and a triumph for the FX Players of Fairfax High School. Forum will also be performed this weekend, May 8 and 9. Don't miss it.
<i>Cappies is a high school critics and awards program involving more than 50 schools in the Virginia, Maryland and D.C. areas.</i>