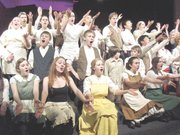 Bachelor number one is a penniless, spineless tailor. Bachelor number two is a Bolshevik radical in a Siberian prison camp. Bachelor number three is a Christian whose friends publicly threaten your family.
None of these matches seem ideal for the daughters of a poor Jewish milkman living in Russia shortly before revolution. But times are changing, matchmakers are becoming obsolete, men are dancing with women in public, and — oh yes, there's a fiddler on the roof.
Adapted from Sholom Aleichem's stories, Jerry Bock and Sheldon Harnick's 1964 theatrical masterpiece, "Fiddler on the Roof," was the first musical to play 3,000 performances on Broadway. Both sharply poignant and riotously funny, "Fiddler on the Roof" explores how far traditions can bend before they break, and how far Tevye the milkman can bring himself to bend with them.
In Robinson Secondary School's production of "Fiddler on the Roof," Tevye, Eric Fischer, showcased a breathtaking operatic baritone voice that would not have been out of place on a Broadway stage. But Fischer proved himself to be more than just a pretty voice with his earthy, sincere and often hilarious characterization of the beleaguered patriarch. With his lanky frame, gruff Yiddish dialect and well-timed one-liners, his Tevye was a lovable and relatable everyman.
Madison Auch, Micah Chelen and Erica Heer gave appealing, dynamic performances as Tevye's daughters. Auch grew believably as a character from teenager to young mother, and Heer danced and sang with gracefulness and sensitivity. Chelen's inquisitive Hodel always shone, particularly in the emotionally charged "Far From The Home I Love." Her magnetic chemistry with Alex Alferov's Perchik never faltered, and Alferov's intense conviction, powerful stage presence, and sweet singing voice made him effortlessly intriguing.
Sarah Russell was delightful as Yente the matchmaker, perfecting the mannerisms of a garrulous old busybody. As Lazar Wolfe, Josh Berrent's versatile facial expressions stood out, especially in one hysterical scene with Tevye. A strong ensemble featured excellent dancers (especially Rachel Mehaffy and Logan Hillman in the joyous "To Life") and entertaining characters, like Elena Robertson, who stole the wedding dance number, and skilled violinist Jose Justiniano as the mysterious Fiddler.
Detailed, authentic sets by Carl Schwartz, Piper Hillman, Julieanna Novak and Sam Wharton were accentuated by Eddie Moore, Dan Barr, Mimi Lynch, and Paul Mayo's creative lighting. Maggee Albertson and Marisa Brown's skillful age makeup and Piper Hillman's beautifully-executed choreography added further professional touches. The stage crew of Sammie Jones, Abby Muller, Kortney Jeffreys and Frannie Nejako was efficient to the point of near-invisibility, and Julieanna Novak and Ashley Guckert provided props, effects, and live chickens.
While the orchestra sounded fantastic, they sometimes overwhelmed the singers, and a few soloists had trouble staying on tempo. While several characters somewhat upstaged themselves, the entire cast showed tremendous dedication.
The very talented cast and crew deserve additional recognition for accomplishing all of this on their opening night. Weaving a spellbinding story "laden with happiness and tears," Robinson Secondary School's "Fiddler on the Roof" was truly a "wonder of wonders."
"Fiddler on the Roof" will also be performed this weekend, May 8 and 9, at 7:30 p.m. Don't miss it.
<i>Cappies is a high school critics and awards program involving more than 50 schools in the Virginia, Maryland and D.C. areas.</i>
More like this story